During the 2021/22 season, I will be aiming to write a (roughly) monthly article summarizing the stats from the previous few Bundesliga Matchdays (MDs), with a bias towards the key numbers that should translate to points for your Fantasy Bundesliga players.
---
Fantasy Bundesliga | Shy's Stats | MD1 – MD3
The Fantasy Bundesliga scoring rules are highly stats based, going beyond the simple goal/assist/clean sheet formula used by other fantasy games such as FPL. They are designed to reward the players in various positions on the pitch for their contributions to the game (e.g. defensive midfielders via duels won), and can even result in players on losing teams obtaining large points hauls — Manuel Riemann's 17-pointer from Bochum's 1-0 loss on the first MD of the season is a prime example, with 12 pts earned from shots saved!
Routes to Points
Before looking at the stats, it's good to have a refresher on what your players can score points for in BL Fantasy. Note that this has already been covered in detail in our Bundesliga Fantasy Beginner's Guide.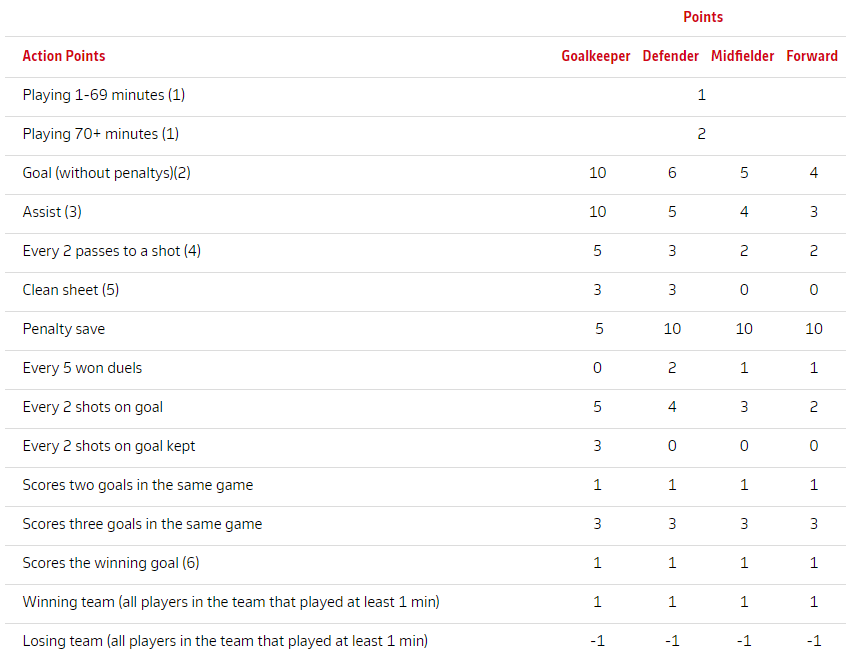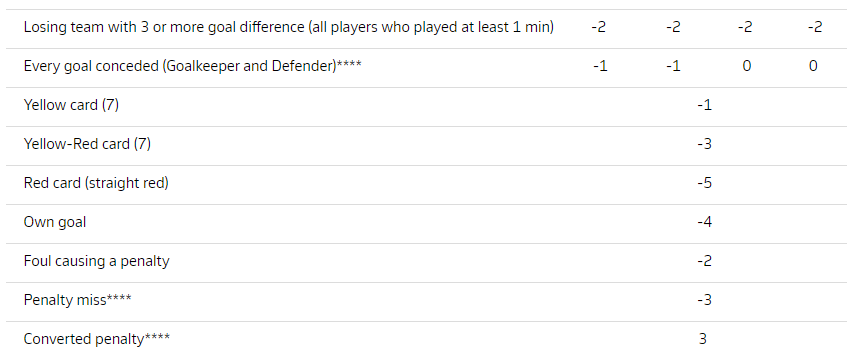 Shying away (ha) from the more standard point-scoring methods (goals, assists, appearance points, etc), there are a few key extras to note. You'll find that three of the more common sources of additional points in the game are Passes leading to shots, Duels won, and Shots on goal (note that these don't have to be on target). Only 2 shots on goal from your player get you 2, 3, or 4 pts for those listed as FOR, MID, DEF (5 for GKs), and if they set up only 2 shots, they will get you 2, 2, or 3 pts, respectively (again 5 for GKs). Every 5 duels won then gets you 1, 1, or 2 pts, for the same respective positions (0 for GKs). This combination of additional point sources made attacking defenders like Angeliño or Raphäel Guerreiro invaluable last season, with them typically being amongst the largest points haulers in the game. On the goalkeeping side, the important stat is Shots saved, with goalkeepers being awarded 3 pts for every 2 shots kept (notably more generous than e.g. Fantasy Premier League).
Now, we'll take a look at who's topping the charts for some of the key stats, both on a team-wise basis and for individual players. Note that in this article I concentrate on stats-based performance (i.e. just one aspect) and don't focus so much on past and upcoming fixtures. The latter are still worth considering as they are also an important factor to weigh up when selecting players, but remember that Bundesliga seasons are frequently full of surprises — well, and Bayern Munich — and form can often win out.
---
---
Team Stats
Before looking at the stats for individual players, let's first take a look at some team-based stats. While we end up choosing individual players from each team, these are useful to look at to get an idea of the teams in good general form and the regular, and irregular, player choices that may benefit from that. They are also useful when considering how a new player entering the starting XI might fare, if going for a brave differential punt in Fantasy Bundesliga – e.g. if Sam Lammers jumps straight in upfront for Frankfurt in the next MD, with Rafael Borré returning late from international duty.
Attacking
Goals
Bayer Leverkusen, Bayern Munich, Borussia Dortmund | 9
Hoffenheim | 8
FC Köln, VfB Stuttgart | 7
Freiburg, Union Berlin | 5
Wolfsburg, Mainz 05 | 4
xG (G – xG)
Bayern Munich | 10.25 (-1.25)
Borussia Dortmund | 7.74 (+1.26)
VfB Stuttgart | 7.50 (-0.50)
Hoffenheim | 6.84 (+1.16)
FC Köln | 5.49 (+1.51)
To little surprise, Bayern Munich is the team that appears at the top of both the Goals and xG lists, aggregating a whopping xG of 10.25 within the first three fixtures (BMG, KOE, BSC). Unusually for Bayern due to their plethora of top finishers, this actually constitutes an xG underperformance of -1.25. Therefore, there is no reason to expect that their goalscoring exploits are unsustainable (if you had any doubts), and they actually have the potential to score more frequently going forward.
Borussia Dortmund, Hoffenheim, VfB Stuttgart and FC Köln are the other teams that place in both top fives. Of these, the only one underperforming their xG is VfB Stuttgart (by -0.50), suggesting they are good value for continuing their goal threat — Al Ghaddioui (FOR, 4.4m) could be a great value pick because of this (see below). Of the others, FC Köln have exhibited the largest overperformance at +1.51 — their 2 goals against Bayern in MD2 came from an xG of just 0.8, hence making up a large part of this. Köln are looking much more promising this season in an attacking sense especially with the return of Mark Uth, but some regression would not come as a surprise.
While Dortmund and Hoffenheim have so far also overperformed, they are blessed with some top-quality finishers, including their respective talisman (Erling Haaland and Andrej Kramarić), which could suggest they are less likely to regress so strongly towards their xG. However, while for Dortmund this is supported by the overperformance their total accrued xG from last season by +6.4, Hoffenheim almost exactly matched theirs (a G – xG of +0.2), so regression seems more likely in the latter's case.
Bayer Leverkusen's 9 goals represent a huge overperformance of 4.14 relative to their xG, and so they are the top candidates for some goalscoring regression. While not appearing in either of the above top fives, it is worth mentioning that Borussia Mönchengladbach's meagre 2 goals represent a huge underperformance of -3.18 relative to their xG, and so an increase in their scoring is expected soon.
Big chances created
VfB Stuttgart | 13
Bayern Munich | 11
Hoffenheim | 10
FC Köln | 8
Borussia Dortmund, SC Freiburg | 7
xA per 90
Borussia Dortmund | 2.23
Bayern Munich | 1.97
VfB Stuttgart | 1.82
Hoffenheim | 1.51
FC Köln | 1.31
On the chance creation side of things, it's not too surprising to see the teams in the goal-based top-fives again. Stuttgart's attacking potential is in particular highlighted here, with them having created the highest number of big chances in the league so far. Dortmund place top for xA but joint 5th for big chances created, suggesting they tend to accrue the former by creating a large number of smaller chances.
Defensive
Clean sheets
Mainz 05, Wolfsburg | 2
Arminia Bielefeld, Augsburg, Bayern Munich + 6 teams | 1
Borussia Dortmund, SG Fürth, Hertha BSC + 4 teams | 0
Goals conceded
Wolfsburg | 1
RB Leipzig, Mainz 05, Bayer Leverkusen, Arminia Bielefeld | 2
Bayern Munich, Freiburg, VfL Bochum | 3
Union Berlin | 4
Hoffenheim, FC Köln | 5
Good xGA (xGA – GC)
Mainz 05 | 2.20 (+0.20)
Wolfsburg | 2.91 (+1.91)
Union Berlin | 3.29 (-0.71)
RB Leipzig | 3.34 (+1.34)
Bayern Munich | 3.52 (+0.52)
At the other end of the pitch, the defensive surprise package is Mainz, who are top for both clean sheets and have performed best in terms of xGA. In this case, however, the fixtures could have played an important role, with Mainz having faced both of the two promoted sides in their first three games. The presence of the two best defensive teams from last season, Wolfsburg and RB Leipzig, is much less of a surprise, and it's good to see that their defenders should still be reliable picks this time around.
Another of last season's solid defences, Union Berlin, could consider themselves unlucky in terms of goals conceded, being the only team in the best five for xGA to have conceded more than expected so far. Bielefeld have continued their xGA defiance from the previous season (just the 92.3% save percentage for Mr. Ortega so far), having conceded only two goals from an xGA of 6.00 (+4.0 overperformance)!
Poor xGA (xGA – GC)
SG Fürth | 7.82 (-1.18)
FC Augsburg | 6.89 (-1.11)
VfL Bochum | 6.52 (+3.52)
Hoffenheim | 6.49 (+1.49)
Hertha BSC | 6.44 (-3.56)
In BL Fantasy, it is also useful to know the teams that are good to target for attacking returns for your players, and so above are listed the five sides with the worst xGA in the league. Fürth are clear in terms of having the poorest xGA and are also conceding more goals than expected, so they are currently the team to target. Augsburg, who are second poorest, have also "over-conceded", although they were let down by 2 own goals in the last MD that included Iago's sensational chip (worth a watch) — note this also helps to explain Leverkusen's significant xG overperformance. Bochum, Hoffenheim and Hertha have all drawn a similar xGA, but Riemann (VFL) and Baumann (TSG) have been keeping well so far, while Schwolow (BSC) has typically not (comfortably bottom in the league for save percentage, at only 33.3%).
---
---
Fantasy Bundesliga Player Stats
Now, let's turn our attention to the players that have been posting good statistics in the first three fixtures. They're who you pick for your teams, after all, and choosing the best possible players from in-form teams is often key to Fantasy Bundesliga success.
Goals, Expected Goals (xG) and Shots
Goals
Robert Lewandowski (FCB) | 5
Taiwo Awoniyi (FCU), Erling Haaland (BVB) | 3
Anthony Modeste (KOE), Serge Gnabry (FCB), Patrik Schick (B04) + 10 players | 2
xG (G – xG)
Robert Lewandowski (FCB) | 5.15 (-0.15)
Erling Haaland (BVB) | 2.97 (+0.03)
Patrik Schick (B04) | 2.95 (-0.95)
Wout Weghorst (WOB) | 1.98 (-0.98)
Hamadi Al Ghaddioui (VFB) | 1.95 (+0.05)
Shots
Erling Haaland (BVB) | 18 
Robert Lewandowski (FCB) | 16
Patrik Schick (B04) | 15
Anthony Modeste (KOE) | 14
Rafael Borré (SGE) | 12
Two very unsurprising players currently lead the way in terms of goals, expected goals and total shots, with Robert Lewandowski and Erling Haaland appearing in the top two for each of these statistics. Patrik Schick (13.8M) places third on all three lists, and is currently underperforming his xG by -0.95, so is definitely worth keeping an eye on. He seems to have carried his Euros form into the BL season. Wout Weghorst (14.7M) is also highly underperforming his xG, and should be strongly considered for Wolfsburg's upcoming game against Fürth, the current 'whipping boys'.
In terms of value options, Taiwo Awoniyi is a surprise inclusion as the joint second top goalscorer given his accrued xG of only 1.71 (+1.29 overperformance), but has looked red hot so far thanks to his link-up with Max Kruse. He faces lowly Augsburg next, and could represent a great value differential at just 7.4M if he can keep this overperformance up. Anthony Modeste (6.8M) is similarly representing a good value route into Köln's promising attack, and places 6th for xG on 1.93, just behind Hamadi Al Ghaddioui. The latter could represent the best value of the lot at a very cheap price of 4.4M in Fantasy Bundesliga, with Saša Kalajdžić out long term and Stuttgart posting top attacking numbers.
Assists and Chance Creation
Assists
Andrej Kramarić (TSG) | 4
Borna Sosa (VFB) | 3
Erling Haaland (BVB), Marco Reus (BVB), Simon Zoller (BOC), Florian Wirtz (B04), Max Kruse (FCU), Joshua Kimmich (FCB) | 2
xA
Andrej Kramarić (TSG) | 1.76
Max Kruse (FCU) | 1.49
Vincenzo Grifo (SCF) | 1.47
Alphonso Davies (FCB) | 1.17
Jamal Musiala (FCB) | 1.15
Big chances created
Andrej Kramarić (TSG) | 4
Florian Kainz (KOE), Vincenzo Grifo (SCF) | 3
Borna Sosa (VFB), Erling Haaland (BVB), Max Kruse (FCU) + 10 players  | 2
Andrej Kramarić (FOR, 14.6M) has been the most creative player in the league so far, who is usually a BL Fantasy favourite because of his goalscoring and shot taking exploits. If he can add the latter to his current creativity, he could be a very good premium option. However, it is worth noting that his 4 assists represent a particularly large overperformance of +2.24, so there may well be some regression due in this sense. Vincenzo Grifo (MID, 12.4M) has so far posted good big chance creation and xA numbers, although these have so far transpired into 0 assists. Max Kruse (FOR, 11.5M) appears on all three lists, and has looked in hot form in the first 3 MDs and is linking up with Taiwo Awoniyi well. Grifo and Kruse both have penalty responsibilities for their respective teams as well, which is worth bearing in mind.
Despite not appearing in the top five for xA, Borna Sosa (DEF, 11M) has created 2 big chances and earned himself 3 assists, continuing his attacking form from the previous season. Alphonso Davies (DEF, 13.7M) is another interesting inclusion on the xA list, since, as mentioned at the beginning of the article, defenders with good attacking numbers are a promising route to points hauls in BL Fantasy.
Duels Won
Next, we show the top duel winners in the league so far. The total points they have earned from these exploits are included in brackets, which take into account their in-game positions (note that these are aggregated points from the individual games, so may mismatch the total duels won).
Wataru Endo (VFB), Mohamed Simakan (RBL) | 49 (9 pts, 18 pts)
Jude Bellingham (BVB) | 45 (8 pts)
Kevin Mbabu (WOB) | 44 (16 pts)
Manuel Prietl (DSC), Alphonso Davies (FCB) | 43 (7 pts, 14 pts)
Marc-Oliver Kempf (VFB), Florian Neuhaus (BMG) | 42 (14 pts, 7 pts)
While duel-winning midfielders can provide a decent flow of points (e.g. Wataru Endo), the points tally highlight the importance of having duel-winning defenders. At 9.6M, Mohamed Simakan looks like he will provide a good value route into RB Leipzig's tough defence with his ability to accumulate duels won points. Kevin Mbabu (10.8M) and Alphonso Davies (13.7M) may have steeper price tags, but their attacking prowess justifies their value. Mbabu in particular has so far provided great value for money as the joint-highest points scorer, and his currently even better value compatriot, Marc-Oliver Kempf (7.2M), also makes an appearance as one of the top five duel-winners.
Shots Saved
Aside from clean sheets and goals conceded, the crucial statistic for Fantasy Bundesliga goalkeepers is shots saved. Listed below are the top shot-stoppers in the league in the first three matchdays. Note that since goalkeepers gain 3 pts per 2 shots saved, the corresponding points earned are listed in brackets (note there are mismatches due to individual game totals).
Sascha Burchert (SGF) | 17 (24 pts)
Oliver Baumann (TSG) | 16 (24 pts)
Manuel Riemann (VFL), Florian Müller (VFB), Yann Sommer (BMG) | 14 (18 pts)
Lukáš Hrádecky (B04) | 13 (18 pts)
Stefan Ortega (DSC), Rafal Gikiewicz (FCA), Mark Flekken (SCF) | 12 (18 pts, 15 pts, 15 pts)
Perhaps unsurprisingly, the two GKs from the newly promoted sides (Sascha Burchert and Manuel Riemann) are amongst those that have made the most saves so far; Burchert in particular has faced a league-high 26 shots on target. Added to their cheapness (5.1M and 5.4M, respectively), this makes them ideal GK choices, but the total goals conceded by Fürth makes Burchert a less attractive choice. Bochum, meanwhile, have only conceded three goals in the first three MDs, which makes Riemann the stand-out keeper at the moment. Second-placed Oliver Baumann's numbers are a little inflated by his huge 15-point tally from 10 shots saved in last MD's game against Dortmund, heroics that almost allowed Hoffenheim to come away with a draw.
In summary
From an attacking perspective, the current teams to look out for seem to be VfB Stuttgart, Borussia Dortmund, Hoffenheim, FC Köln and, of course, Bayern Munich, who have all posted good goal threat and chance creation stats in the first three MDs. Wolfsburg and RB Leipzig have continued their defensive form from last season and still appear to be the stand-out defences in the league. Union Berlin have also posted good defensive numbers, and their xGA underperformance suggests that they may have been a little unlucky in terms of goals conceded so far.
Amongst the premium forwards in Fantasy Bundesliga, there's little surprise at the top of the player-based goal threat stats lists, with Robert Lewandowski and Erling Haaland leading the way and justifying their high price tags. Patrik Schick and Wout Weghorst are also posting good xG numbers and are currently both underperforming, so are definitely worth considering. Taiwo Awoniyi, Anthony Modeste, and Hamadi Al Ghaddioui all currently seem to provide great value options in this sense.
Andrej Kramarić has so far been the most creative player in the league, topping each of the assists, xA and big chances created lists. If he can add his usual goalscoring and shot taking exploits to this, he has the potential to be a particularly promising player for points hauls. Such hauls could also come from attacking defenders Borna Sosa and Alphonso Davies due to their strong creative stats. Vincenzo Grifo and Max Kruse have also been posting promising numbers in this sense, and are worth keeping an eye on.
Mohamed Simakan looks to be a good value route into the strong RB Leipzig defence with his duel-winning capabilities, but Stuttgart's Marc-Oliver Kempf has so far emerged as another great value option. Manuel Riemann's cheap price, high save count and relatively low goals conceded make him a strong candidate for the keeper to have at the moment.
Duels won, shots and shots saved stats taken from the BL website. Rest from Understat or FB Ref.
---
You can find additional Fantasy Bundesliga resources for the 21/22 season here.
Just a shy guy who's very keen on Fantasy Football. Currently playing FPL, Bundesliga Fantasy and UCL Fantasy.
Articles written on Bundesliga Fantasy  and UCL Fantasy.