The Super Eagles are looking to win their first African Cup of Nations (AFCON) tournament in almost 10 years. Nigerian football fan TheFPLManual shares his insights on the team and thier fantasy prospects in RealFevr's AFCON Fantasy game.
---
Preview
I'm a Nigerian by nationality, born and raised here in "Naija." Usually, I only talk about fantasy football, but since I made a few threads about AFCON Fantasy, I thought I could speak more about my country before talking about our fantasy assets. Now I will be speaking on the following matters:
Recent changes in management
Predicted lineup
Latest injuries and those players unavailable
Thoughts on our chances in AFCON
Note: I will be using a lot of terms like "we", "us" and "our" in place of Super Eagles and Nigeria.
Change in Management
About four weeks ago, The NFF (Nigeria Football Federation) gave Gernot Rohr, the former manager of the Super Eagles, the sack. Prior to then, Rohr was in charge for five years and helped us qualify for the World Cup in 2018, took us to third place in AFCON 2019 while also setting us up for another AFCON this year.
Nigerians criticized the Franco-German coach greatly due to recent upsetting results like the 4-4 game where we drew despite having a 4-0 lead at HT against Sierra Leone and the loss to the Central Africa Republic in the World Cup Qualifiers. However, it seems like the NFF chairman Amaju Pinnick had a soft spot for him as Nigerians wanted him out after the loss against Central Africa Republic but he was given time to top the Group C table in the World Cup Qualifiers, putting us in a much better position to qualify in the playoffs.
Later, he was handed the sack when the NFF said Rohr "lost control of the locker room" and "has created a toxic environment." This vacancy led to the re-appointment of Former Super Eagles player and caretaker Austin Eguavoen to take us to Cameroon with plans on winning the competition. Meanwhile, Jose Peseiro has been appointed as the new Head Coach of Nigeria. The Portuguese has a handsome CV that included him working side by side with Jose Mourinho during his time at Chelsea, but he will be an observer for the AFCON taking charge later in March.
Play Style under Eguavoen
Under Rohr, we played in a 4-2-3-1/4-4-2 formation and sometimes a 4-3-3 depending on the game. Our most used formation was the 4-4-2 with Iheanacho and Osimhen upfront, while in a 4-2-3-1 formation, Iheanacho plays as the shadow striker behind. I'm not sure which formation we use under Eguavoen, but it's fair to assume he sticks to a 4-4-2 formation.
❎ Players unavailable: Unfortunately, Osimhen will be a big miss as he recovers from his last injury.
🤕 Injuries: Leon Balogun's injury rules him out of the competition as Semi Ajayi was called up to replace him. Awaziem has been out due to a hamstring injury for a few weeks as Nigeria sweat over his fitness.
❓ Doubts: Ighalo might not be released by his current Saudi club's owners, but the manager is positive Ighalo will join the squad soon. Eguavoen will need the aid of the last top goalscorer of AFCON 2019 (5 goals) to help bolster the Super Eagles front line.
I think that is a brief summary of the Nigerian football national team. My thoughts on our chances in AFCON are that we have a good squad even though we are missing a lot of key players and a few who their respective clubs did not release. I believe we have a good chance of progressing into the competition's latter stages.
Can we win it? As maybe a biased fan, I am confident we can, but as a realist, I think the chances are pretty slim for us looking at the other nations like Algeria, Senegal etc. Many key elements are missing, like Balogun in defence, Osimhen upfront, Awaziem could be out. The defence does not look quite solid. Our AFCON winning chances are pretty bleak, but it is not my opinion that will win us the competition.
I'm confident the Super Eagles are preparing their hardest to prove the doubters wrong as we face Egypt in our next match on the 11th of January. It is a tough group, but we will qualify and go all the way to win it. I stand firmly behind the Super Eagles, and I'm proud to be a Nigerian!
---
Nigeria National Football Team Profile
🦅 Nickname: The Super Eagles
🌍 World rank: 36th
Nigeria have won the Africa Cup of Nations three times (1980, 1994 and 2013). They have finished as runner-ups three times and recently finished third in the last AFCON back in 2019.
🗺️ Road to AFCON: Nigeria finished unbeaten in Group L of the AFCON Qualifiers scoring 14 goals and conceding seven times. The Super Eagles are also in decent form as they topped Group C in the World Cup qualifiers scoring nine goals while conceding just three.
⚽ Style of Football: One of the primary reasons that the last manager got sacked was due to the fact Nigeria never really established a unique style of football. It could be possessive football today, then counter-attack tomorrow and high-press in another game, which frustrated the fans. However, the Super Eagles seem to thrive more on the counter, with Osimhen and Kelechi making runs behind the opposition defence as they are both very quick players. This has been evident in most of the big wins Nigeria get against lower-ranked nations but not really against the big African nations.
---
---
Nigeria Predicted Lineup
Overall, this is how I think Nigeria could lineup based on my assumption. The team usually lines up in a 4-4-2 formation.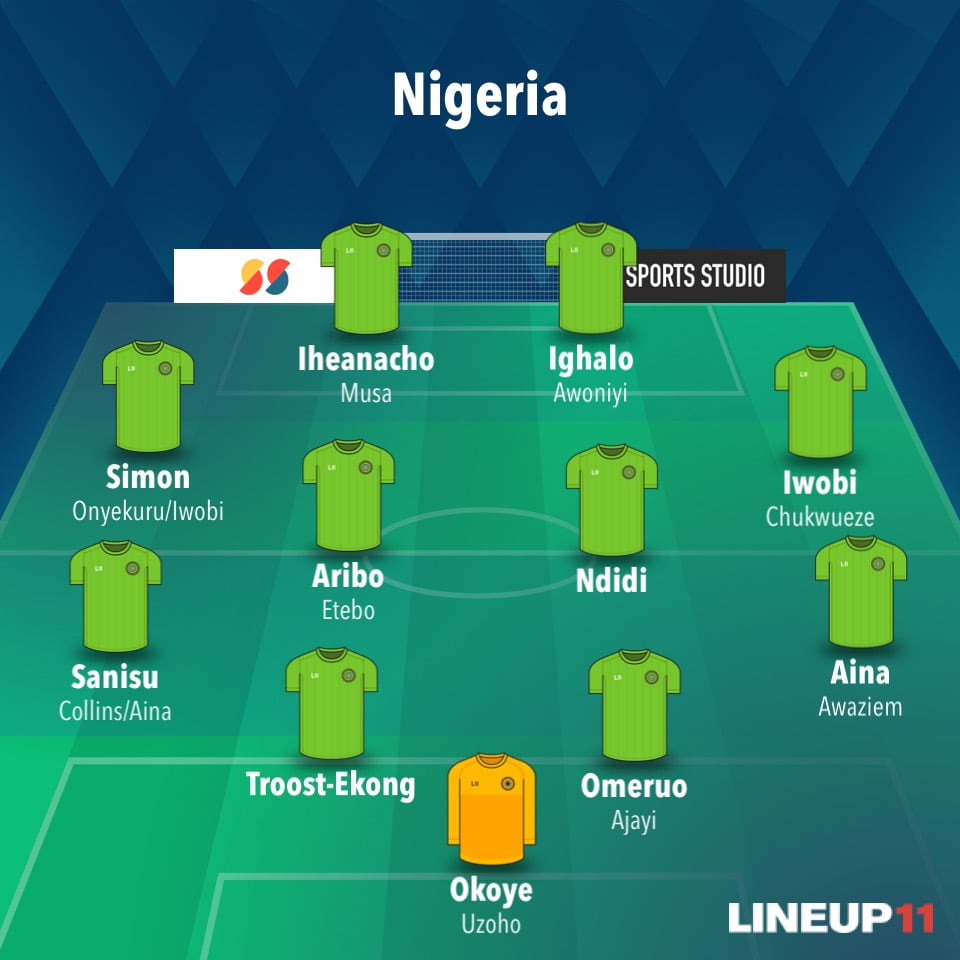 The most nailed players for Nigeria are:
Iheanacho (€11.5M)
Ndidi (€5M)
Moses Simon (€7M)
Sanusi (€5M)
Troost-Ekong (€6M)
Rotation risk: Chukwueze (€9.5M) – News has it that the Villareal forward is still yet to join the camp. Chuwueze was not a regular under the last gaffer but I think he will fight for his place under the interim boss.
Omeruo (€5.5M) – He is set to be Leon Balogun's replacement but was missing in training recently and could also rotate with Semi Ajayi.
Ahmed Musa (€8.5M) – The Nigeria Captain has 103 caps with 16 goals for the country, although he plays as a striker (Out of Position). Unfortunately, the captain is not favored as a regular starter anymore, but if Nigeria switch to a 4-2-3-1 formation, he could play up front with Iheanancho behind him. Fingers crossed that he starts the game against Egypt.
I've received a few questions on Iwobi asking how nailed he is. For me, I don't think Iwobi is 100% nailed. I see Iwobi as a regular player in the side, having the advantage of playing in at least six positions (AM/CM/LM/RM/LW/RW) and can rotate with anyone. It is worth keeping an eye on where he will play under the interim boss. He is on the watchlist. The same thing applies to Ola Aina (€6M) who is not exactly nailed either. He can play both left-back and right-back easily but is only starting due to an injury to Awaziem. M. Okoye (€5M) started in goal in most of our Qualifiers, so I will say he is nailed over Uzoho (€5.5M).
---
---
Nigeria's AFCON Fantasy Prospects
Below is a preview of the best fantasy assets from Nigeria in RealFevr AFCON Fantasy.
💸 Most expensive asset: Iheanacho (€11M)
💎 Potential gem: Simon (€7M)
💰 Budget Player: Sanusi (€5M)
Osimhen has been a key asset for Nigeria in the AFCON Qualifiers scoring five goals and was the top goalscorer of the Qualifiers but will miss out due to injury. This gives an opportunity to other forwards like T. Awoniyi (7.5m). The in-form Union Berlin striker will want to fight for a place in the team.
Recent reports on Awaziem (€5M) states that "Awaziem is recuperating from a hamstring injury which has kept him out for about three weeks before the camp opened and the minimum time range the injury takes to heal properly is six to seven weeks."
Moses Simon (€7M) is a potential budget gem as he is on a majority of set-pieces that he shares with Iwobi (€7.5M) and could rack up a few assists during the contest. Another player to watch out for should be Kelechi Iheanacho, as he should be on pen duty in Osimhen's absence.
Another update says that Odion Ighalo cannot represent Nigeria due to having a "no AFCON clause" in his contract, and Cyriel Dessers is set to replace him. This increases the chances of Ahmed Musa (€8.5M) starting for the team.
---
Summary
In summary, Nigeria play a counter-attacking style of football but sometimes have a lapse in concentration when good results start coming in. The defence is very shaky at the moment but The Super Eagles have a lot of strong players and tend to be physical most times, and this could be an advantage against a very high press team like Egypt. Personally, I won't be picking any Nigerian players for matchday one, especially in the defence, but the attacking players could come good later from MD 2-3 with Kelechi (11M) up front. This also gives us insight into what formation/group of players are the Interim boss's favorite. Their first game is against Egypt, and other group opponents in Group D include Sudan and Guinea-Bissau.
That brings me to the end of this article. Please like and share for other AFCON Fantasy managers to read. Don't forget to join our little mini-league with this token – 66a73908. You can also lookup my previous article on Egypt and get more insight into their assets for your fantasy team.
---
You can find additional AFCON 2021 Fantasy resources here.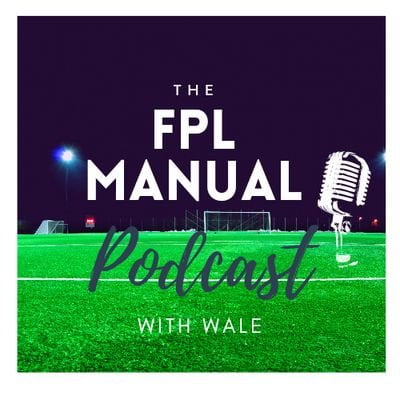 Hello everyone, I'm a Podcaster who recently discovered a new urge for writing new content on all things fantasy football with focus on #FPL, #UCLFantasy and #AfricaFantasy (Afcon Fantasy)
Feel free to read my articles and share for other fantasy managers to help them in their fantasy team