The Atlas Lions have been at the center of controversy with their recent move to leave star players Ziyech and Mazraoui out of the squad for AFCON 2021. Regardless of the recent drama, they boast of a strong team and will hope to challenge for the title. TheFPLManual looks at their team from a fantasy perspective in this article on RealFevr's AFCON Fantasy game.
---
Morocco National Football Team Profile
🦁 Nickname: The Atlas Lions
🌍 World rank: 25th
Morocco have won the AFCON once in their history in 1976. They also finished as runners-up once in 2004 and third in 1980. Despite their recent runs in AFCON, the North African team are ranked 2nd in Africa after Senegal due to their recent surge in form.
🗺️ Road to AFCON: The Atlas Lions finished top of Group E in the AFCON Qualifiers scoring 10 goals and conceding just once (4 wins, 2 draws). Before I get into their current form, I would like to point out something important for the missing players, so pay close attention to this.
Missing Players:
1. Hakim Ziyech – the Chelsea attacking midfielder was omitted from the final team as it has been reported that he had a fall out with head coach Halilhodzic last summer for being "indisciplined."
2. Mazraoui: The Ajax right-back also had an altercation with the gaffer during a training session, and the Bosnian coach argued that he (Mazraoui) had "refused to play" for the team.
Since the World Cup Qualifiers started, both players have not been included in the team. So a word of advice guys, Don't let Halilhodzic put you on his naughty list! But there is a slight difference between the 2020 AFCON and the World Cup Qualifiers team and a change in the gaffer's formation. It's this discovery I want to map out here.
The 2020 AFCON Team mostly played in a 4-3-3/4-3-2-1 formation with Ziyech (AM) and Mazraoui (RB) as regular players, Hakimi played more advanced sometimes as a CM, another time as a winger, but this is not the same method Morocco have played with for the last six months.
The World Cup Qualifying team has a huge contrast to the previous team, with El Kaabi breaking into the first team after En-Nesyri's previous hamstring injury. Chair and Louza are also regulars on the side now. Morocco's switch to a 4-4-2 shape seems more efficient and high-scoring.
However, the recent change in the team did not affect Morocco's performance as they still only conceded a single goal in their last six games and scored many times. Meanwhile, En-Nesyri missed only a single match during the AFCON Qualifiers and but scored only two goals. Now the question is, who will start up front for Morocco? Definitely El Kaabi again, but En-Nesyri might be in contention with Mmaee for the other position upfront in a 4-4-2 formation, but En-Nesyri may not start in a 4-3-3 shape or start on the flanks.
⚽ Style of Football: Morocco play a very direct style of attacking football. The moment they win the ball from the opposition, the Atlas Lions move in at least three numbers trying to spearhead the defence from the middle and are not also afraid of shooting from range either.
---
---
Morocco Predicted Lineup
Below is a predicted line-up of how Morocco would play in AFCON.
The most nailed players for Morocco are:
A. Hakimi (€7M)
Saïss (€6M)
Bono (€6M)
El Kaabi (€8M)
Barkok (€5M)
Masina (€5.5M)
Rotation risk: Boufal (€8.5M), Munir (€6.5M) and En-Nesyri (€9.5M).
I can't believe I'm saying this, but En-Nesyri is not as nailed as we all thought. The Bosnian Coach is a very pragmatic manager and believes a lot in team stability hence his behavior towards the missing players. It may be difficult for En-Nesyri to prove himself one more time.
---
---
Morocco's AFCON Fantasy Prospects
Below is a preview of the best fantasy assets from Morocco in RealFevr AFCON Fantasy.
💸 Most expensive asset: En-Nesyri (€9.5M)
💎 Potential gem: Mmaee (€6M)
💰 Budget Player: Barkok (€5M)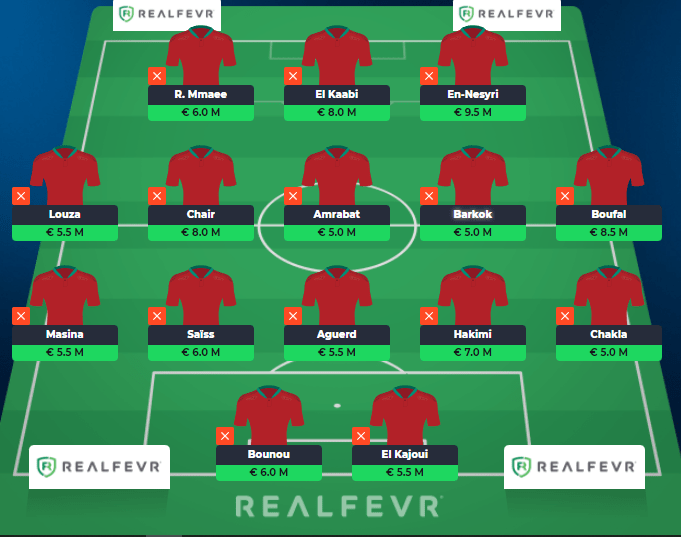 El Kabbi (€8M) is the new star forward with seven goals for the Atlas Lions in the qualifiers, while En-Nesyri was out injured and is still set to continue to head the front line despite En-Nesyri's return to the squad. Mmaee (€6M) seems to be on all set-pieces but might be sharing penalties with Louza (€6M).
---
Summary
In summary, Morocco are excellent as a unit regardless of who starts on the side. They always get the goals coming and still keep many clean sheets. The team is very dominant with the ball and will likely be dominant in their group as their first match-up is against Ghana in Group C. Other opponents in the group are Gabon and Comoros.
That brings me to the end of this article. Please like and share for other AFCON Fantasy managers to read. Don't forget to join our little mini-league with this token – 66a73908. You can also lookup my previous article on Nigeria and get more insight into their assets for your fantasy team.
---
You can find additional AFCON 2021 Fantasy resources here.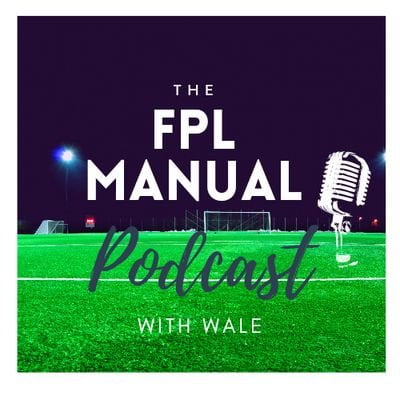 Hello everyone, I'm a Podcaster who recently discovered a new urge for writing new content on all things fantasy football with focus on #FPL, #UCLFantasy and #AfricaFantasy (Afcon Fantasy)
Feel free to read my articles and share for other fantasy managers to help them in their fantasy team