Are you ready to discover Sorare with our beginner's guide? Sorare is a new way to play fantasy football with NFTs of players from your favourite teams to compete for real prizes. We believe it offers the best of both worlds – the high stakes of traditional fantasy football and the collectibility, engagement, and community offered by blockchain. If you are interested in the future of fantasy football, this beginner's guide will help you get started.
---
What Is Sorare?
Sorare is a fantasy soccer blockchain game where users collect and trade football player cards to compete in weekly tournaments for prizes. It's like FIFA with blockchain technology, but it is much more fun. Sorare allows users to collect and trade football player cards from real-world competitions like the Premier League and La Liga. Once users have their squad of players, they can select five players from their collection to compete in weekly competitions against other teams on the platform. The winners are rewarded in cryptocurrency and/or NFTs (more on this later).
One of the coolest aspects of Sorare is that every card is unique; it's like owning a Honus Wagner baseball card…but better! And unlike traditional trading cards, when you win a player in Sorare you own them forever. The value comes from the fact that each card has a fixed supply and some players are rarer than others. Therefore, as demand increases, so does the price of that player's cards!
So how do you get started with Sorare? You've come to the right place! We'll give you all the information and tips you need before jumping into this exciting game.
---
Getting Started
Once you create an account on Sorare, you can select your favourite club, after which you will receive a pack of common (untradeable) cards. The pack will include a mix of players from your favourite club and other random players. Common cards can be used to enter the free-to-play casual league, and you can also use one player to complete your S05 teams in rare leagues until August 2022, when common cards will be ineligible in rare leagues.
Suppose you don't mind selecting players from other than your favourite club. In that case, we recommend choosing a club from teams with many high-scoring players, such as PSG, Bayern, Liverpool, Real Madrid, River Plate, or Ajax, so you have a better chance of getting the best common cards.
Tip: You can use our referral link to create an account, and you will receive a free tradeable limited scarcity card worth a random value when you buy five cards from the auction.
---
---
How Sorare Works
Sorare players participate with their NFTs in fantasy football leagues and collect prizes based on their game results. That's the gist of it, but you can play Sorare in several ways to maximise your success and fun. Here are some general rules and tips you should consider when getting started:
Each user picks five players per week to compete with other users' squads.
Your squad is made up of players from all over the world playing games in real life. The cards represent those actual players who may be great or terrible at any given time. So you'll want to research who's playing well and where before you start collecting those cards!
Yes, you can trade the NFTs on the open market for whatever price someone else wants to pay for them. If you aren't sure what a player's price should be, we recommend looking it up on soraredata.
Other than common, four different scarcities of cards are available with a limited number of cards minted per player per season. They are: Limited (1000 cards per season), Rare (100 cards), Super Rare (10 cards), and Unique (1 card). As evident, cards that are more scarce have higher values.
You can also withdraw your crypto earnings to your wallet and convert them into FIAT by selling them on an exchange.
Tip: Instead of buying ETH from an exchange to add it to your Sorare wallet, you can bypass the transaction/gas fees by directly bidding on cards in FIAT via your credit/debit card.
---
Sorare Tournaments
Just as there are cards of different scarcities, there are different divisions and tournaments that you can enter with each type of card, too. Therefore, it is important to know which leagues suit your collection the best before entering a tournament. These are the Sorare tournaments available right now:
Casual league – This is a free-to-play tournament where only common cards are eligible. The top three managers are awarded a limited card.
All-Star – There are no restrictions on the leagues. You can enter any player from any club and league from your collection. It is also the most competitive tournament.
Under 23 – Same as All-Star, but the only restriction is that players must meet the U-23 criteria.
Champion Europe – Only players from the top five leagues (Premier League, Bundesliga, Serie A, La Liga, and Ligue 1) can participate in this tournament.
Challenger Europe – Players from European teams that aren't in the top five leagues, such as the Eredivisie, Scottish Premiership, and the Primeira Liga, among others are allowed in this tournament.
America – This tournament is limited to players who ply their trade in the Americas, from MLS in the north to the Campeonato Chileno in the south and all the other leagues covered in between.
Goalkeeper Special Weekly – This special league requires five players (4 limited+1 common) with an average of 55 or below in the last 15 games. The common players receive zero points, and the top 100 managers at the end of the gameweek receive a goalkeeper as a prize.
Specialist League – Managers have to enter a minimum of two players with an average of L15 average of 40 or below, a maximum of one player with an L15 average of 60 or above with a maximum of two players from the same team. There is no captain for this tournament.
Underdog League – Only players with an L15 average of 50 or below are eligible for this league.
Legends League – A minimum of three legend cards are required to compete in this league.
Training – If you haven't entered your players in any of the leagues above, you can train them to increase their levels and XP.
The Rare All-Star is the most unique tournament because, unlike other leagues, it has a system of threshold scores. If your team scores between 205-250 points, you receive ETH worth $25 as a prize. If your team scores above 250 points, you will receive ETH worth $50. The rewards are pegged to the dollar, so you can earn more or less ETH depending on the value. So there is an opportunity to earn crypto every week from the thresholds, and if your team does well, you could even win a prize!
Since Limited tournaments are incredibly competitive and tier 3 limited prizes aren't worth much, many Sorare managers choose to invest in rare teams instead as they can get better and more consistent returns. However, assembling a decent rare squad is much more expensive than it is for a limited team due to the scarcity and higher prices of cards.
The rules for leagues in every division
| League\Divisions | Limited | Rare | Super Rare | Unique |
| --- | --- | --- | --- | --- |
| Normal tournaments | 5 Limited cards | At least 4 Rare cards + 1 Common card | At least 3 Super Rare cards + maximum of 1 Rare and/or 1 Unique card | Minimum 3 Unique cards + maximum of 2 Super Rare cards |
| Pro tournaments | - | At least 3 Rare cards + a maximum of 2 Super Rare cards | - | - |
| Captain | Limited card | Rare card | Super Rare card | Unique card |
It is worth noting that common cards used in rare leagues will receive a 50% XP penalty. For example, if you have a common keeper with a 10% XP bonus, he will receive a -40% XP scarcity penalty.
Tip: The training arena might not seem like much, but higher XP gives your players a better bonus when you enter them in prize leagues and could be the deciding factor between different tiers of prizes, a podium finish, or reaching a threshold score. Players with higher XP also sell faster than the same players with lower XP. For example, if there are two cards of the same player at the same price, but one card has 8% XP, and the other one has 5% XP, any buyer would prefer the one with the higher XP. Cards also lose some XP when traded, and you can view the non-tradeable XP of an NFT by clicking or hovering your mouse over a card's XP.
Sorare Leagues
Within just four years, Sorare has managed to onboard 43 leagues from the J1 League in Asia to the Argentine Primera División in South America and 248 clubs in between. If you own a player that plays in any league covered by Opta's data platform, he is eligible for scoring. However, if you have a player that moves from a covered league, for example, Premier League, to an uncovered league such as the 2. Bundesliga, he won't be eligible for scoring. There are also partially eligible players like Shakhtar Donetsk players who aren't eligible for domestic games but European ones.
Check out this website for the full list of leagues and clubs covered by the platform. Sorare is constantly in the process of onboarding new leagues and clubs with the Campeonato Chileno being the latest introduction to the game and many more are expected to be added soon. In addition, the platform is even in contention for the Premier League NFT gaming rights, and we will receive an update on the same soon. But for now, Sorare has decided to focus on adding a new sport to the platform with MLB, which will be launching in the summer of 2022.
---
Sorare Scoring Rules (SO5)
The scores of players on Sorare for each game are directly based on their real-life performances. This includes a combination of a Decisive Score (DS), All-Around Score (AA), and the XP bonus that a card has, plus a captain's 20% XP boost if applicable. The lowest score possible by a player is 0, while the maximum score is capped at 100 points.
Note: Cards from the current season have a 5% season XP boost, but older cards lose that bonus once new cards are minted for the next season. However, they still keep their training bonus.
What Is a Decisive Score on Sorare?
A decisive score is based on any event that directly impacts a game. This includes goals, assists, red cards, own goals, an error that led to a goal, last-man tackles, goal-line clearances, penalties conceded, and penalties saved. A decisive score is also awarded for when a player starts (35 points) and when he comes off the bench (25). Cleansheets, however, are a part of an all-around score for 10 points and are not considered as decisive for defenders. Goalkeepers get a decisive for keeping a cleansheet.
The decisive scores are awarded based on levels, with each positive action increasing the player level and vice versa for a negative action. A player starts at level 0, and their score cannot be lower than the minimum guaranteed at their level, regardless of the all-around score. This is what the levels for each decisive action look like:
| Level for each additional decisive | Points |
| --- | --- |
| -1 | 15 |
| 0 | 35 |
| 1 | 60 |
| 2 | 70 |
| 3 | 80 |
| 4 | 90 |
| 5 | 100 |
For example: A player with two goals, one assist, and a red card will end up on level 2 (70 points). Similarly, a player involved in an error that leads to a goal will be on level -1.
What Is an All-Around Score on Sorare?
An all-around score is based on performance metrics during a game that isn't considered as decisive but is just as valuable when evaluating a player's overall impact on a game. This includes actions such as big chances missed, shots on target, shots saved, clearances, etc., and is divided into general, goalkeeping/defence, possession, and attack. There is no cap on the AA score of a player; it can range anywhere from negative digits to over 100, although a player can't score above 100. It is a bit more challenging to track and is determined by the following grid:
| Category | Action | Goalkeeper | Defender | Midfielder | Forward |
| --- | --- | --- | --- | --- | --- |
| General | Yellow Card | -3 | -3 | -3 | -3 |
| | Fouls | - | -1 | -0.5 | 0 |
| | Was fouled | - | - | 0.5 | 1 |
| | Error leads to shot | -5 | -1 | -1 | -1 |
| Defending | Clean sheet | - | 10 | - | - |
| | Goals conceded | - | -2 | -2 | - |
| | Effective clearance | - | 0.5 | - | - |
| | Won tackle | - | 3 | 3 | - |
| | Blocked cross | - | 1 | 1 | - |
| | Block | - | 2 | 1 | - |
| | Double Double | - | 4 | 4 | 4 |
| | Triple Double | - | 6 | 6 | 6 |
| | Triple Triple | - | 12 | 12 | 12 |
| Posession | Possession lost | -0.3 | -1 | -0.5 | -0.1 |
| | Possession won | - | 0.5 | 0.5 | - |
| | Duel lost | - | -2 | -0.5 | -0.5 |
| | Duel won | - | 1.5 | 0.5 | 0.5 |
| | Interception | - | 3 | 2 | - |
| Passing | Big chance created | 3 | 3 | 3 | 3 |
| | Attempted assist | 2 | 2 | 2 | 2 |
| | Accurate pass | - | 0.1 | 0.1 | 0.1 |
| | Accurate final third pass | - | 0.5 | 0.3 | 0.1 |
| | Accurate long balls | 0.2 | 0.5 | 0.5 | - |
| | Long Pass Into Opposition | - | 0.5 | - | - |
| | Missed pass | -0.2 | -0.2 | -0.2 | - |
| Attack | Shot on target | 3 | 3 | 3 | 3 |
| | Won contest | - | 0.5 | 0.5 | 0.5 |
| | Penalty area entries | - | 0.5 | 0.5 | 0.5 |
| | Penalty kick missed | -5 | -5 | -5 | -5 |
| | Big chance missed | -5 | -5 | -5 | -5 |
| Goalkeeping | Saved shot from inside the box | 1 | - | - | - |
| | Good high claim | 1.2 | - | - | - |
| | Punches | 1.2 | - | - | - |
| | Diving save | 3 | - | - | - |
| | Diving catch | 3.5 | - | - | - |
| | Cross not claimed | -5 | - | - | - |
| | Six second violation | -5 | - | - | - |
| | GK Smother | 5 | - | - | - |
| | Keeper Sweeper | 5 | - | - | - |
If that hasn't overwhelmed you yet, defenders can also earn additional bonus points based on their defensive contributions, such as interceptions, won tackles, and net duels. The bonus can be divided into three categories:
Double-Double (4 points): At least two each from two of the three relevant categories (e.g. two interceptions, two tackles, but fewer than two net duels).
Triple-Double (6 points): At least two each from all three categories (e.g. three interceptions, two tackles, three net duels).
Triple-Triple (12 points): At least three each from all three categories (e.g. three interceptions, four tackles, three net duels.
If one of your players has two games in the same gameweek (e.g. one club game + one International game, or two club games), only one will count by counted Sorare. These are some of the rules in case a player has a double gameweek:
If a player is in the lineup for the first game, even if he remains on the bench and does not play, this appearance will count toward Sorare scoring.
If the player is not in the lineup for the first game but he is in the lineup for the second game, their appearance in the second game will count toward Sorare scoring.
Only the first game will count if the player is in the lineup for both games.
Tip: Players that are good at generating a high AA score tend to have the highest floors in the game and are perfect if you want to build a threshold grinding team for the All-Star Rare league.
---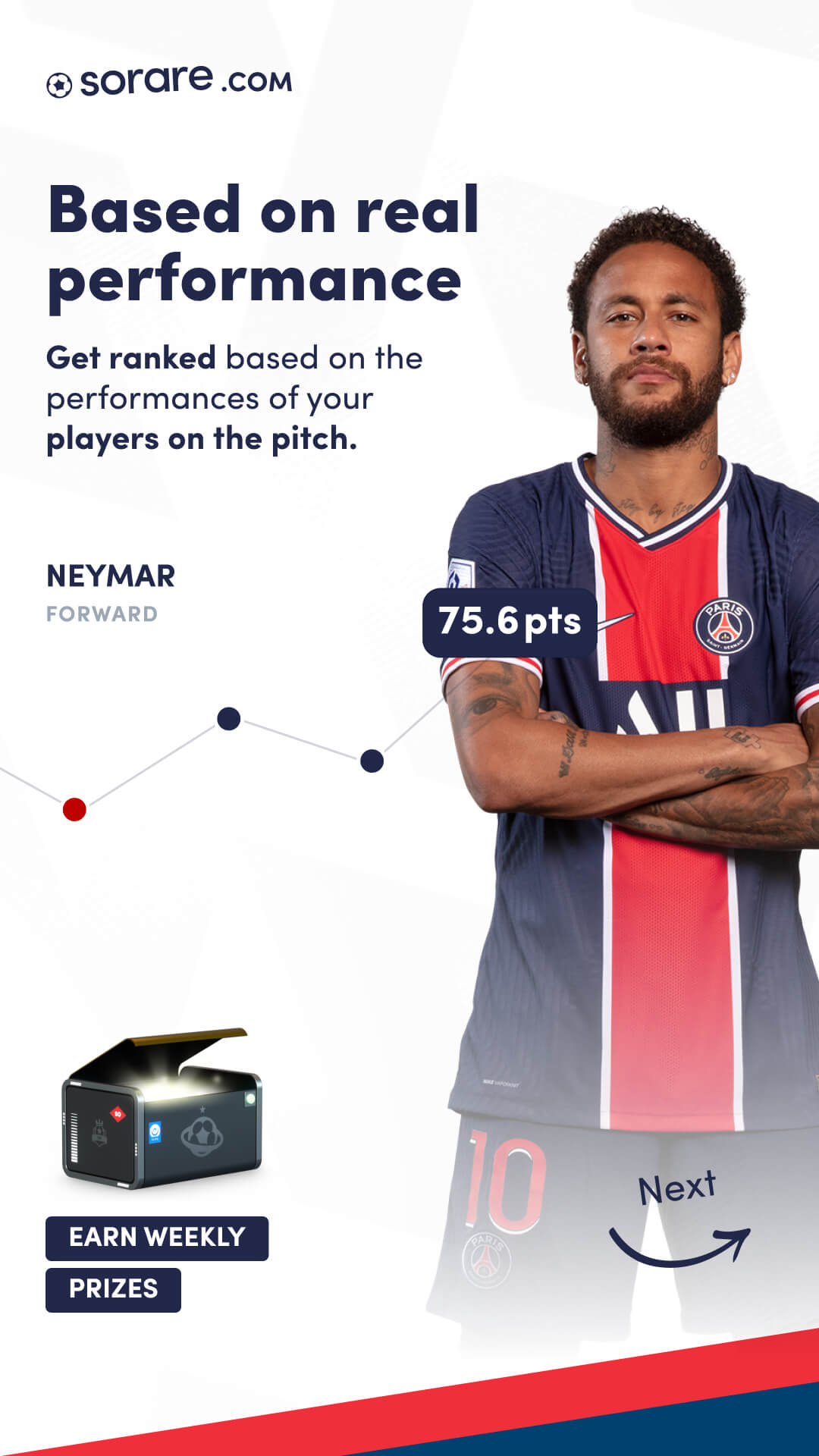 ---
Sorare NFT Scarcities
Each card on the platform is a non-fungible token (NFT), meaning that there is a limited supply of cards, and it can't be duplicated. Unlike most NFTs available on the market today, the NFTs on Sorare have applications as you can enter them in tournaments and win prizes. Other than common cards, Sorare mints 1-1000 cards of a player each season according to the scarcity, and while it might seem like a lot, it is reported that over 127K+ users own at least one card on Sorare (Source: soraredata). That number will increase as more clubs and leagues are onboarded on the game.
These cards are only in a digital format, not physical, but you are the exclusive owner of each card. You can use it to enter tournaments and win rewards in the form of ETH tokens, NFT cards, or a mix of both if you finish on the podium, win a card, or cross the threshold in the All-Star Rare league. The Sorare economy ensures that cards with a higher scarcity demand a higher price but the tournament structure also means that you can compete for bigger and better prizes if you have a Unique or Super Rare card over Common or Limited.
The cheapest limited cards sell for below €1, which is for a good reason since they don't offer much utility-wise. On the other hand, Unique cards can easily fetch a few thousand euros. For example, the most expensive card to ever be sold on Sorare was a 2021-22 Erling Haaland card for 265 ETH or €609K. It might seem outrageous, but considering how dominant Haaland is, the owner of his unique card is in a solid position to finish 1st in Unique tournaments and win over 1 ETH in just crypto every gameweek. Of course, that is without counting the tier 0 card they could win. And considering the skyrocketing userbase of Sorare, it wouldn't be a surprise if that record is broken soon.
The number of mints for each scarcity:
Common – Unlimited
Limited – 1000 per season
Rare – 100 per season
Super Rare – 10 per season
Unique – 1 per season
Each card has its serial number with #1 mints having a higher value than the same cards with different numbers, just like collectable Topps and Panini cards. Sorare also releases collectable cards occasionally, such as the player of the season limited cards, champion cards, national team cards, rookie edition, Ukraine for peace edition, and autographed Rare cards that footballers receive on joining the platform.
It goes without saying that these cards are a lot more collectable than standard cards, especially the autographed cards that are more scarce than unique cards since only one card will ever be minted. However, It might take more than a generous offer for a footballer to even consider parting ways with one. Sorare is incredibly popular among footballers, with players such as Tony Watt, Griezmann, Hummels, Piqué and Werner having their own collections on the platform.
Besides the regular cards, Sorare also has legend cards that receive the points from the highest-scoring player of the same club in the same position the card was minted for. Example: If you own a Cruyff 1970-71 Ajax legend card, you will get the points from the highest scoring forward from Ajax for the week. Legend cards can only be used in Legend tournaments.
Tip: If you want to mainly focus on the trading aspect of Sorare to build a valuable portfolio rather than win tournaments, Limited cards offer the best liquidity and are easier to sell than cards of other scarcities.
---
How to Deposit and Withdraw Money on Sorare
The default way to buy players on Sorare if you don't have any ETH in your wallet is through your debit or credit card. It is also the most straightforward way, but it could cause some complications with your banks repeatedly calling you to ask about the multiple transactions on the platform. Now that depends on the bank you have an account with, but there are other ways to add money to your account, such as Ramp or Moonpay, but that could incur additional costs. For example, if you wired funds through Ramp, it charges you a transfer fee for the conversion from fiat to ETH, and you will also pay gas fees to send ETH from Ramp to Sorare.
Note: If you buy a card from another manager directly from your credit or debit card, you are charged a 10% transaction fee.
If you are well-versed with trading crypto, you can even buy ETH from exchanges such as Coinbase or FTX and then send it to your Sorare wallet address. The only caveat is that you will have to pay gas fees for moving your crypto around, which makes this the least ideal option, especially if you have a small amount of crypto.
Similarly, you can withdraw your ETH from Sorare to your wallet on an exchange, sell it, and withdraw the fiat money to your bank account. Just like depositing money, you will have to pay some gas fees while withdrawing. The transaction fee fluctuates based on the current gas costs of the Ethereum blockchain. The busier the network, the higher the gas fees for processing transactions. You can see how active the network is on Etherscan.
---
How to Trade Players on Sorare
If you want to move beyond the free-to-play version of Sorare and compete for bigger and better prizes, you will first have to add some NFTs to your collection by trading for them. It puts your business mind and scouting talent to the test, and if you have played Football Manager before, you will certainly love flipping players for a profit on Sorare.
Buying Players on Sorare
Once you've added ETH to your wallet or will be making transactions directly through your debit or credit card, purchasing a Soraer NFT is as simple as a few clicks. There are two ways through which you can buy players on Sorare: New Card Auctions and Manager Sales/trades.
In the New Card Auctions section, freshly minted cards are listed for sale to the higher bidder, just like on eBay. The cards have a time limit ranging anywhere from three hours to a couple of days, so you can plan in advance if you have a card on your watchlist that you want to buy. Each new bid has to be 10% higher than the previous bid, and for every offer in the last minute of the auction, the clock will be reset to the 60-second mark again, giving other managers time to bid. Only cards listed by Sorare can be found in this section.
Usually, cards are listed weekly in alphabetical order, so you will find plenty of players with the same or similar names on the auction at once. Sorare also lists cards in bundles of five in the Bundles section (mostly Serie A cards of Limited, Rare, and Super Rare scarcities), so you might be able to find yourself a good bargain on a team's stack. The platform also holds special power hours at least once every month with auctions dedicated to a specific league such as MLS or an upcoming S05 tournament such as Underdog.
When you click on a player, you can find important information about the card, such as the total NFTs minted for all seasons, yearly stats, and a breakdown of previous games' scores and averages. The cards section displays all the NFTs minted for a player, with those on auction or sale being shown first. You can sort all the cards according to the lowest price, highest price, newly listed cards, and those ending soon.
The secondary market or Manager Sales is where other managers, like you and me, can list their cards for sale. Sorare does not charge any commission or gas fees for any sales transactions made on the platform. You can either buy cards for their listed price, make an offer, trade for a card you own, or a mix of both. Managers can set an expiry date on the trade offers that they make for one to seven days, after which the offer cannot be accepted.
It is also worth noting that a card already listed for sale cannot be used in trade; you have to delist that player first. And if you sell a player in one of your S05 lineups before the gameweek begins, you will have to replace him. Otherwise, the team's score won't count. Similarly, if you make a sale after the gameweek has already begun, the scores for your team will count even after the player has been sold.
Tip: Direct offers are usually the best way to find a bargain on Sorare because sometimes managers are willing to budge and sell their players for lower than the average market price.
Selling Players on Sorare
Once you have bought a player on Sorare, it takes a few minutes for the transaction to complete and the card to show up in your gallery. After the transaction is complete, you can list your player according to the FIAT or ETH price. You will be given a minute to cancel your listing before it is available for purchase by other buyers on the market. Listing expires after 48 hours, so if your card does not sell, it will have to be relisted again.
Sorare also has built-in measures to ensure managers don't list a card for much less than the average price without double-checking. This includes an option to set a minimum price as we have mentioned before, so you don't receive any scammy offers below your player's worth. However, you will still have to be careful when cards are included in a trade. This is why we recommend using soraredata to check a player's value, including historical data, to help you evaluate and make an informed decision.
Tip: The official Sorare Discord is a great way to find buyers for your cards. You can share the links and a short description of your players on the relevant channels every six hours, and the interested buyers will send you a private message.
---
---
Sorare Side Games
There is more to Sorare than just the S05 tournament. The company encourages community members and enthusiasts to create their side games with real prizes to be won from Sorare itself! This includes the free-to-play Sorare Academy and Captain Sorare side games among other games such as Sorare Mega and the Soraredata Cup where you can enter the cards that you own.
Sorare Academy is a free game that follows the same S05 format but the twist is that you can select any players from the top five leagues (Premier League, Bundesliga, La Liga, Ligue 1, and Serie A) available in the game without any budget constraints. In addition, the top 10 managers for each gameweek win a limited card as a prize. This is a great way for beginners, especially those who haven't invested in the platform yet, to increase their chances of winning rewards.
Captain Sorare is another game you can play for free, but you have to create a team of 11 players, and since the game emphasises the captain, it has to be a card you own in your gallery of any scarcity, including common cards. The game also has a budget constraint. You start with $650 after selecting a captain from your gallery that you can use to select players for the specific tournaments that you enter on the platform, such as Liga MX or Bundesliga. The player prices are based on the averages, and there are limited seats for every tournament with prizes to be won occasionally, so don't forget to secure a spot!
Sorare Mega has two different games that you can play: Mega League and Score Dice. In the Mega League, you can compete in 3-a-side, 5-a-side, 8-a-side, and 11-a-side tournaments, with the manager in first place winning a rare card and managers from 2nd to 11th winning a limited card. The Score Dice game gives managers a random target they have to beat with one player, but it does not have any rewards. You can only use Limited, Rare, Super Rare, and Unique scarcities players on Sorare Mega, and it even has a shop where you can buy bonus items such as jerseys and boots using the platform's MGC currency that will boost your player's score.
Soraredata is an essential tool for every Sorare manager as it has many tools that let you scout and analyse players. Still, few managers know that the website also has its gaming arena with leagues, cups, and private leagues where you can win rewards.
SorareBrag is a relatively new platform that lets you create private leagues with up to 4-8 of your friends and compete with them weekly. There are no prizes, but it is the best way to create a mini-league and battle with your friends for bragging rights.
---
If you want to get started with this amazing new way to place fantasy football, make sure to use our referral link to sign up and you will receive a free limited card on buying five cards from the auction – https://sorare.pxf.io/FreeTier2Card. As part of a limited period offer, Sorare is even offering Tier 2 MLS cards as a prize which is much better than the Tier 3 cards given out as a referral reward usually.
The world of blockchain-based games is still new and evolving. That's why it's good to stay on top of the latest developments and opportunities. If you decide to start playing Sorare, hopefully, this guide will help get you acquainted with how things work. If you have any questions or need help with onboarding, you can drop us a message on Twitter or our Discord server, and we will help you out. Good luck!
The creator of the website.