Getting your team's pricing structure right is arguably one of the most important aspects of any Fantasy game, whether that be FPL, GAFFR.io or so on. Making the right choices on where to spend the bulk of your initial budget could potentially be the defining factor between a good and great season so in this article I will be dissecting a few popular strategies and giving my take on the benefits of each.
---
GAFFR Fantasy Team Structures
Before we truly get started on team structure, I obviously have to lay out some price brackets to base our structure on. Here are my personal brackets for the 21/22 GAFFR season (disclaimer: these numbers are completely arbitrary and you may feel free to disagree with some of them).
GK/DEF:
Enabler – £4.0M
Budget – £4.5M
Mid-Range – £5.0M-£5.5M
Premium – £6.0M+
MID:
Enabler – £4.5M
Budget – £5.0M-£6.5M
Mid-Range – £7.0M-£8.5M
Premium – £9.0M+
FWD:
Enabler – £4.5M-£5.0M
Budget – £5.5M-£6.5M
Mid-Range – £7.0M-£9.0M
Premium – £9.5M+
Using these pricing ranges we can start to develop an idea of what our team might look like and where our budget will be spent based on some different plans we may have in mind. So let's delve into them:
---
All-Out Attack
Starting this off we will look at a strategy I have seen talked about quite a lot in the GAFFR community over the current pre-season. The clue is in the name, this team structure places a very large chunk of your budget into the most attacking options available. This includes having three premiums as your striker options which does mean you will probably be aiming to play a three striker formation for the entirety of the campaign and this is seemingly favourable this season. An example of this structure could be:
GK: Budget, Enabler
DEF: Premium, Mid-Range, Mid-Range, Budget, Enabler
MID: Premium, Mid-Range, Budget, Budget, Enabler
FWD: 3x Premium
Formation(s): 3-4-3, 4-3-3, 5-2-3
As you can see, this is surprisingly balanced and can play any three striker formation depending on fixtures in any Matchday. In my opinion, this is probably the most popular pricing strategy available and that's deserved. In GAFFR, all positions receive the same points for scoring a goal, as opposed to other fantasy games where DEFs and MIDs get more than FWDs, because of this it is favourable to have a premium FWD than a premium MID as they get the same amount of points for something the FWD is likelier to achieve.
If you are using this structure you should look at assist threats when it comes to your MID options as MIDs get an extra point for assists in GAFFR. The really surprising thing is how much you have left to spend on your defence. A draft of a team following this structuring features four DEFs who I would class as having good chances for clean sheets, two of whom have positive attacking potential.
Some players to target
Kieffer Moore – FWD – £10.0M – CAR
Aleksandr Mitrovic – FWD – £11.0M – FUL
Callum O'Hare – MID – £5.0M – COV
Andy Yiadom – DEF – £5.0M – REA
John Swift – MID – £6.5M – REA
Template Team for All-Out Attack
---
Plum Pudding Model
The aptly named plum pudding model does what it says on the tin, puts everything in the middle. In this strategy, you will be looking to bulk out your squad with the highest-end midfield options in the game and likely have five midfielders playing every gameweek. Here is what this team could look like:
GK: Budget, Enabler
DEF: 3x Mid-Range, Budget, Enabler
MID: 3x Premium, (Higher) Mid-Range, (Higher) Mid-Range
FWD: (Higher) Mid-Range, Mid-Range, Enabler
Formation(s): 3-5-2
In all honesty, this makes for a pretty unbalanced team however it does have its positives. Because of the options in midfield, you are guaranteed to have at least one, if not multiple, ways into the best attacks in the league through midfield players, which are sure to score points through the season.
Some players to target
Harry Wilson – MID – £9.5M – FUL
Arnaut Danjuma – MID – £10.0M – BOU
Jamal Lowe – MID – £8.5M – SWA
Josh Koroma – FWD – £8.0M – HUD
Perry Ng – DEF – £5.0M – CAR
Template Team for the Plum Pudding Model
---
Abandon The MIDs
Another system with a straightforward name, this plan is aimed mainly towards getting clean sheets and goals. Unlike the other two mentioned, this is not a viable set-and-forget strategy due to a lot of rotation with our MIDs and targeting clean sheets for your DEFs which does become quite reliant on fixtures. Here's what a draft to begin the season may look like:
GK: Premium, Enabler
DEF: 3x Premium, Mid-Range, Mid-Range
MID: (Higher) Mid-Range, 4x Budget
FWD: Premium, Premium, (Higher) Mid-Range
Formation(s): 5-2-3
This strategy, while sounding quite bizarre, has actually proven to be pretty popular among GAFFR players and once you look into it, you can see why. To put it bluntly, some DEFs and most high-end FWDs are better value than MIDs due to the GAFFR scoring system. The main thing with this tactic is obviously rotation, playing with 5-2-3 means you have to elect to bench three of your MIDs so every gameweek you want to have at least two MIDs with a good fixture. This also goes for your DEFs, the best team aren't necessarily going to get the most clean sheets during a given period of time so we will look towards teams with better fixtures which means no WBA DEFs (at least not from the start).
Teams To Target
Reading – STO (A), PRE (H), BRI (H), COV (A), HUD (A),
Sheffield United – BIR (H), SWA (A), WBA (A), HUD (H), LUT (A), PET (H), PRE (H)
Stoke City – REA (H), BIR (A), SWA (A), NOT (H), FUL (A), HUD (H)
Fulham – MID (H), HUD (A), MIL (A), HUL (H), STO (H), BPL (A), BIR (A)
Preston North End – HUL (H), REA (A), HUD (A), PET (H), SWA (H), BRI (A)
Template Team for "Abandon the MIDs"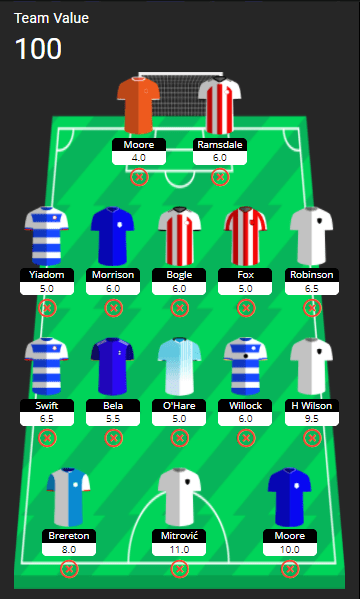 ---
You can find GAFFR EFL Fantasy resources for the 21/22 season here.