Before the start of the Fantasy Premier League (FPL) season, I plan to give a little deeper insight into each of the Premier League teams. Which enables FPL managers to choose the right and good assets in their team to start the season.
So I'm starting this team analysis series, with last year's league champions Manchester City. We know that, as always, managers are keeping an eye on City's Fantasy Premier League prospects. So I'm going to review it in more detail.
---
Manchester City Introduction
The 2020/21 campaign started very slowly for Manchester City but they went on to win the Premier League with a 14 point lead over second-placed rivals Manchester United. Before the start of the 2021/22 season, everyone has identified City as one of the favourites to win the title again. So in my opinion City will end the season at the top of the league table.
Transfer Targets
Even before the end of the last season, it was known that City's talismanic club legend Sergio Agüero will be leaving the club at the end of the season just like David Silva ended his City career at the end of the 19/20 season. Agüero followed the same path as Silva and left for Spain to continue his career with FC Barcelona as a free agent in the current transfer window. So for the 21/22 season, the management has emphasized signing new strikers and wingers. Some of the notable names that have emerged as potential transfer targets are Harry Kane, Jack Grealish and Erling Haaland.
---
Manchester City Tactical Review 20/21
Preferred System
City launched their Premier League campaign with the well-known backline that fluffed lines time and time again. As I mentioned earlier, City did not have the best start to the season and the humiliating 2-5 loss at home to Leicester City was a wake-up call for Pep Guardiola & Co.
To make amends and fix the vulnerabilities of their defence, the club signed Ruben Dias who went on to become one of the contenders for the Player of the Year award. We saw that as full-back Mendy joined the attacking final third, he negated any counterattacks with Rodri. That results in İlkay Gündoğan Positioning of more of a double pivot with Rodri and leaves Kevin De Bruyne as the lone creative outlet who is easily negated with a 2v1 scenario by overloading the half-spaces in front of him.
As a result, when there is a counter-attack, the City players make mistakes and Gundogan and Rodri are outnumbered by the opposition team and as a result of their slow speed, it leads to a 4v5 situation.
New System
If we look at the formation of the City, it is known as 4-3-3 but switches in attack to a 2-3-5, which is known as Pyramid System. In this system, the wingers enter the box from their preferred position and fullbacks are the second-line defence and re-occupy the ball. İlkay Gündoğan is the most attractive player in this system because Pep has played him in a free role. That's why he was one of the most successful City assets in Fantasy Premier League last season.
Pep's Man City is the closest anyone has come to revive that 2-3-5 system, while sterling and Foden are involved in wide-winger roles and fullbacks Zinchnko and Cancelo drift inwards as more of a buffer in front of the backline of Dias and Stones. By the Christmas period, City were languishing at eighth place, having amassed only a total of 23 points from 13 games and sitting 11 points behind Liverpool.
Defensive Solidity
The aim was to take the opponent out of the game with Rodri taking up more of a 'Centre-half' role, allowing the centre-backs to drift wider and turn it into a back-three during counterattacks.
---
---
Best Manchester City Players in Fantasy Premier League
Gundogan finished last season as one of City's best players and it is evident as he was the top scorer for the club with 13 goals. The Cityzens have won 15 matches in a row since gameweek 14 and if we compare Gündoğan's performance, we see that it can be divided into two stages.
Gameweek 13-25  vs  Gameweek 25-38
👕 Starts: 13 | 6
🕛 Minutes Played: 1076 | 564
⚽ Goals: 11 | 2
🅰️ Assists: 2 | 1
Minutes per chance created: 23 | 40
Minutes per xG: 153.5 | 311.6
Minutes per xA: 578.7 | 593.7
Minutes per xGI: 121.3 | 204.3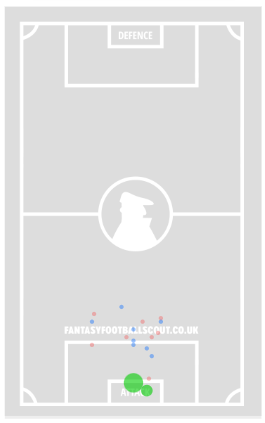 We see that from GW13-GW25, Gündoğan was the most influential City player. The change in personnel also changed the approach of their build-up play. When facing a low block, the two fullbacks would drift inwards, creating a 2-3-2-3 setup, which gave the centre-backs more angles to pierce the first line of attack and free up the two number 8s to join the forward line. With Jesus dropping deep, De Bruyne and Gündoğan could take up the half-spaces while also drifting wide and interchanging with the wingers to break the opponent's defensive structure. The results were there for all to see, as Gündoğan enjoyed one of his best seasons in front of goal and De Bruyne racked up assists and pre-assisted most of City's goals.
From GW26-GW38, he started only six games and scored only two goals.
---
---
Manchester City Attacking Stats Analysis
The Cityzens had their worst goals tally in the 2020/21 season since the 2016/17 season. Manchester City scored *just* 83 goals last season. This is because of the way Sterling and Agüero had a free goal scoring form in the last few seasons but they were not observed as viable FPL assets last season. Sterling has not been able to get close edge of his form which he demonstrated in 2018/19 and 2019/20.
Manchester City Attacking Stats 2020/21
⚽ Goals: 83 (1st)
🅰️ Assists: 70 (1st)
🎯 Shots on Target: 217 (1st)
✅ Shots in the Box: 394 (1st)
💡 Big chances: 107 (1st)
📈 xG: 68.91 (1st)
📉 xA: 43.31 (1st)
Attacking Assets Analysis
We've seen the 2-3-5 system courtesy of City's play but many don't think City's Fantasy Premier League assets will be as impressive as De Bruyne (£12.0M). In this system, Gündoğan (£7.5M) will start in midfield with Rodri and Fernandinho and it will give De Bruyne a lot of space as a creative option but we don't know if De Bruyne will start on gameweek one as he is recovering from injury.
Other City attacking assets other than KDB include last year's PFA Young Player Of The Year – Phil Foden(£8.0M). Also, Riyad Mahrez (£9.0M) and B. Silva (£7.5M) are good shouts from the MCI midfielder even though they aren't nailed assets. De Bruyne has created the most chances at City assets with 80 of them, compared to Mahrez.
A look at Minutes per chance created metrics shows that De Bruyne, Mahrez and Foden are the top three chance creators for the team. De Bruyne had 12 attacking returns last season while Mahrez contributed with 17 attacking returns in 1954 minutes and Foden returned 17 times in 1613 minutes. Torres (£7.0M) was involved in 11 goals as well in 1305 minutes including a hat-trick against Newcastle. If you want to pick up City attacking assets from the "Pep Roulette" then De Bruyne is the safest pick.
---
Manchester City Defensive Analysis
We all noticed that at the start of the 2020/21 season, the city defence collapsed like a house of cards, which was particularly through counter-attacks. City Legend Company's place after last 2018/19 has not been filled by any City player in 2019/20 but a lot has changed since Dias joined last season and his introduction to the team made City the best defence in the league as they conceded just 32 goals and kept 19 clean sheets.
Manchester City Defensive Stats 2021/21
🥅 Goals Conceded: 32 (1st)
🚫 Clean Sheets: 19 (1st)
🧤 Shots Conceded: 284 (1st)
🎯 Shots on Target Conceded: 100 (1st)
💡 Big Chances Conceded: 36 (2nd)
📈 xGC: 30.97 (1st)
City Defensive Assets Analysis
If you want to avoid being burned by the "Pep Roulette" then Dias (£6.0M) is the right choice as he started the most games among all outfield players for the club. John Stones (£5.5M) made 22 starts, the most when compared to the four fullbacks – Cancelo (£6.0M) Walker (£5.5M), Zinchenko (£5.5M) and Mendy (£5.0M) who started 27, 22, 15, 11 games respectively.
The role of the shielding trio cannot be underestimated though. Zinchenko and Cancelo would often drift wide but not forward, just enough to create an overload in the flanks. The result was an out ball to the other flank, where the winger cut in balls across the six-yard box, with runners like Gündoğan, De Bruyne and Jesus all waiting to pass the ball into the back of the net. Right-back Cancelo created the most chances amongst defenders just after De Bruyne and created 8 big chances. If we compare a little more broadly:
Cancelo vs Walker vs Zinchenko vs Mendy
👕 Starts: 27 | 22 | 15 | 11
🕛 Minutes Played: 2302 | 1946 | 1474 | 955
⚽ Goals: 2 | 1 | 0 | 2
🅰️ Assists: 4 | 1 | 0 | 1
Minutes per chances: 65.8 | 92.1 | 159.2 | 194.6
Minutes per Big chances: 232 | 1946 | –  |  –
Minutes per Big chances created: 287.75 | 973 | 1474 | –
Minutes per xG: 1429.8 | 7207.4 | 2200 | 2728.6
Minutes per xA: 414 | 2373.2 | 1304.4 | 2076.1
Minutes per xGI: 321.1 | 1785.3 | 818.9 | 1179
It is clear from this comparison that Cancelo's success is mainly because when MCI played with two inside-forwards on both flanks, Cancelo pushed up the pitch, while Zinchenko dropped deeper to make it a back-three. With Cancelo higher up on the right flank, Mahrez could drift inside and make it a double false 9 in the middle of the pitch, where either of the two could drop deep to link up the play while still having an extra forward up top. He is the best pick from the City defence and had the most goal involvements with six.
---
Manchester City Predicted Lineup for the 21/22 season
---
You can find Fantasy Premier League (FPL) resources for the 21/22 season here.
Anish is the founder of "Let's Chat FPL" and creates FPL content such as threads, stats and other updates on his page @letschatfpl on Twitter.