Our Bundesliga Fantasy team preview series continues with an in-depth preview of FSV Mainz 05 who finished 12th in the league last season.
A failed attempt to start a football club in the city of Mainz in 1903 was followed up two years later by the successful creation of 1. Mainzer Fussballclub Hassia 1905, a club that is known today as 1. FSV Mainz 05. The club was a regular feature in the regional and other lower leagues until their first-ever promotion to the 2. Bundesliga in 1988. FSV Mainz is nicknamed the 'Die Nullfünfer' or 'the 05ers' and 'Karnevalsverein', or 'Carnival club', as the city is home to Germany's most famous carnivals. Another famous cultural export from the city is the 'Humba' chant, which is now widely popular among fans and is commonplace in Bundesliga grounds after matches.
In the early 2000s, a certain former player turned coach called Jürgen Klopp took over the club when they were at the brink of relegation to the third division and led the club's resurgence, guiding them to the Bundesliga by 2004. Klopp added another feather to his cap as in 2005 the club featured in its maiden European campaign but were knocked out in the first round after a 2-0 aggregate loss to eventual champions Sevilla.
He could not replicate the same success in the forthcoming season as the club was relegated after three top-flight seasons but Klopp did stay with the 05ers in an attempt to secure promotion again but was unable to achieve promotion the next year after narrowly missing out on a fourth-place finish and resigned at the end of the 2007–08 season. He finished with a record of 109 wins, 78 draws and 83 losses and was given a farewell by 15,000 fans in the centre of Mainz. His successor, Thomas Tuchel, was another star in the making and even guided Mainz to a fifth-placed finish in 2010/11 before finding success with Borussia Dortmund, PSG and Chelsea later in his career.
Fun Fact: The attacking trio of Lewis Holtby, Andre Schürrle and Adam Szalai were nicknamed 'the Bruchweg boys', due to their tendency to celebrate goals as if they were members of a band.
---
Bo to the Rescue
Mainz had the most disastrous start possible to start the season with just one point from their first seven games and it seemed like relegation was inevitable for the club until former player and youth coach Bo Svensson took charge after joining from FC Liefering. He joined on Matchday 15 when the club only had six points to their name and were seven points off Arminia Bielefeld at 15th place. Much wasn't expected from the Danish manager whose only first-team managerial experience was with an Austrian second division side but the progress Mainz made next under Bo makes for one of the best comeback stories of all time.
Bo joined the club when they were languishing at the bottom and in an incredible turnaround, the team only lost 4 of their last 17 matches, winning games against some of the best teams in the league such as Bayern Munich, RB Leipzig, Wolfsburg, Borussia and Hoffenheim in the process. The club was even on a nine-game unbeaten streak from Matchday 24-33 before losing 1-3 against Borussia Dortmund on the penultimate matchday of the season.
Despite being in the relegation zone for most of the campaign, the club ended the season on a commendable 12th place finish in the league thanks to the tactical genius of a relatively unknown coach who had only managed 43 games in his senior-level coaching career prior to joining Mainz. It is undeniable Bo Svensson is another star in the making just like his predecessors Jürgen Klopp and Thomas Tuchel.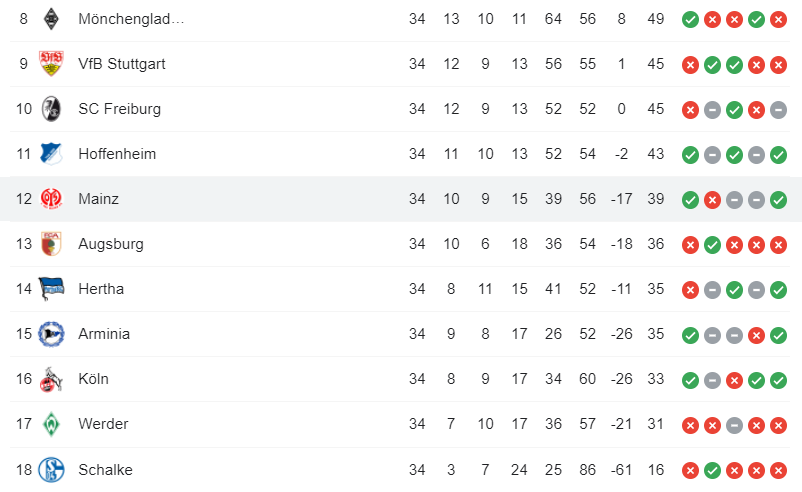 Only Schalke scored fewer goals at home (14) than FSV Mainz 05 last season (16, same as Werder Bremen).
---
---
Team Effort
The fact that Mainz's top goal scorer last season Jean-Phillipe Mateta (7 goals, 1 assist) only featured in 12 games as he left the club in January to join Crystal Palace on loan summarizes their attack. There weren't any standout players in offense for the 05ers even though Robin Quaison (6 goals, 2 assists) came up with some clutch goals towards the end of the season but it was more about the team effort rather than individual performances. Everyone contributed when it mattered the most like centre-back Niakhaté's two goals against Wolfsburg, Barreiro's winning goal against RB Leipzig in a 3-2 win and another one in '90+1 against FC Köln with the exact same scoreline.
⚽ Goals: 39 (13th)
🅰️ Assists: 23 (16th)
💡 Big Chances Created: 53 (9th)
❎ Big Chances Missed: 49 (7th)
🚀 Total Shots: 374 (13th)
🎯 Shots on Target: 132 (13th)
📈 xG: 44.88 (12th)
📊 xG Per Game: 1.32 (12th)
The top 6 players in attacking involvement for the team
| Player | Position | Matches Played (Subs) | Goals | Assists | SpG | KeyP |
| --- | --- | --- | --- | --- | --- | --- |
| Jean-Phillipe Mateta | FWD | 12 (3) | 7 | 1 | 1.9 | 0.8 |
| Robin Quaison | FWD | 18 (10) | 6 | 2 | 1.3 | 0.4 |
| Jean-Paul Boëtius | MID | 23 (8) | 2 | 4 | 0.9 | 1.1 |
| Karim Onisiwo | FWD | 19 (12) | 4 | - | 1.7 | 0.6 |
| Moussa Niakhaté | DEF | 32 | 3 | 1 | 0.3 | 0.5 |
| Leandro Barreiro | MID | 27 (2) | 2 | 2 | 1.1 | 0.6 |
SpG = Shots per Game

KeyP = Key Passes Per Game
---
Full 180°
Only Schalke (39) had conceded more goals than Mainz (31) prior to Bo's arrival but a few months into the managerial change the club was already on the list of teams with the least goals conceded among the top five leagues in Europe since Bo joined. One big change that he made in defence was reinstating Phillip Mwene into the starting XI as he would go on to become one of the most key players at the back for the team along with Moussa Niakhaté and Jeremiah St. Juste. From Matchday 15-34 the team conceded only 25 goals with only the top four teams such as Wolfsburg, Bayern Munich and RB Leipzig conceding fewer goals during that period.
🥅 Goals Conceded: 56 (14th)
🚫 Clean Sheets: 5 (15th)
🧤 Penalties Conceded: 6 (14th)
🚀 Total Shots Conceded: 449 (12th)
🎯 Shots on Target Conceded: 155 (13th)
📈 xGA: 52.7 (8th)
📊 xGA Per Game: 1.55 (8th)
Mwene was a Bundesliga Fantasy fan favourite last season as he was on set-pieces but since he has left the team, his replacement Silvan Widmer is the best pick from the carnival club's defence.
---
Defensive Reinforcements
The club's strategy in the transfer market has been pretty straightforward so far. Even though the team sold Robin Quaison to Al-Ettifaq and Mateta is still on loan for another year, Mainz have only signed one attacker so far – Jae-sung Lee (5 goals and 4 assists) from Holstein Kiel in the second division on a free transfer. The rest of the signings have all been defensive with Austrian right-back Silvan Widmer joining from FC Basel to replace Mwene, left-back Anderson Lucoqui from Arminia Bielefeld and midfielder Anton Stach joining from Greuther Fürth.
The club is placing its faith in prodigious striker Jonathan Burkardt, veteran Jean-Paul Boëtius and the last of 'the Bruchweg boys' – Adam Szalai to lead the line next season. It is clear that Mainz need some extra attacking firepower if they want to challenge for the top 10 and it will be interesting to see how they pursue further signings as the summer transfer window draws to a close.
---
FSV Mainz's Pre-season Results
vs TSG Planig 11-0 (W)
Goal(s): Bobzien (2), Brosinski, Lucoqui, Meier (2), Papela, Rupil (2), Stöger (2; penalty)
Assist(s): –

vs Würzburger Kickers 2-1 (W)
Goal(s): Boëtius, St. Juste
Assist(s): Bobzien, Kohr
vs Liverpool FC 0-1 (L)
Goal(s): –
Assist(s): –
vs Gaziantep FK 1-0 (W)
Goal(s): Aaron
Assist(s): –

vs Genoa CFC 3-2 (W)
Goal(s): Boëtius, Marchetti (own goal), Szalai
Assist(s): Barreiro, Stöger
vs SV Elversberg 2-2 (W, 8-7 on pens) [DFB Pokal]
Goal(s): Burkardt (2)
Assist(s): Stach (2)
Players with multiple attacking returns for Mainz in pre-season
| Player | Goals | Assists |
| --- | --- | --- |
| Kevin Stöger | 2 | 1 |
| Ben Bobzien | 2 | 1 |
| Jean-Paul Boëtius | 2 | - |
| Jonathan Burkardt | 2 | - |
| Jonathan Meier | 2 | - |
| Timothé Rupil | 2 | - |
| Anton Stach | - | 2 |
Note: This list is accurate as of 9th August. You can find the updated list and match reports on DNL Fantasy's website.
---
---
FSV Mainz 05 Players to Watch Out for in Bundesliga Fantasy
Now that first choice set-piece taker Philip Mwene has joined PSV in the Eredivisie, the club is in need of another set-piece specialist to fulfil that role. The other option is Daniel Brosinski but since he isn't guaranteed a spot in the starting XI and is competing with Lucoqui, Widmer should take some of the free kicks and corner kicks for the team and could be a bargain under Bo's defensively rigid squad as he has good potential for clean sheets and attacking returns.
Daniel Brosinski (DEF, 6M)
He might not be in the predicted lineups for Matchday 1 but who doesn't love a defender that is on penalties, free kicks and corner kicks? Brosinski's ownership percentage would be much higher than the 0% it is currently as he has proved his potential in Bundesliga Fantasy over the past few seasons with his involvement in attack generating a steady amount of attacking bonus while also scoring the occasional penalty and providing a periodic assist. Brosinski is certainly one to keep an eye on if he does sneak a start over Lucoqui but if he doesn't, Moussa Niakhaté is worth a shout as he will be the first choice penalty taker in his absence.
---
To Sum It Up
Mainz is full of highly skilled and talented players but the real superstar is the coach and the club will be hoping that he can take the team to even greater heights with his first full season in charge.
Bundesliga Fantasy are not spoilt for choice when it comes to the attack as no player has been consistent enough to be a viable option but if you have the luxury to use a midfield or forward spot on a Mainz attacker then midfielder Jean-Paul Boëtius seems like the only option worth investing in. If you prefer to be a bit more adventurous then you can punt on Jonathan Burkardt who will be playing in the same role as Quaison before him but he is yet to prove himself and that is why he could be an early differential if you believe in his potential.
The Mainz defence is the one to look most forward to after their stellar resurgence under Bo where they finished as one of the best defences in the league. More of the same is expected again this season with Silvan Widmer and Daniel Brosinski being the standout picks from the 05ers backline and could be sharp picks with games against both the promoted teams within the first three weeks. Goalkeeper Robin Zentner is also worth a mention with a game against RB Leipzig on Matchday 1 that could see him rack up plenty of saves.
Mainz might not have any big names at the club but with a coach that is able to bring their full potential to the fore, they can challenge even the best teams in the top-flight like they did last year. The carnival club will look to punch above their weight as they mount another challenge for a top 10 spot.
---
FSV Mainz 05 Expected Lineup for Matchday 1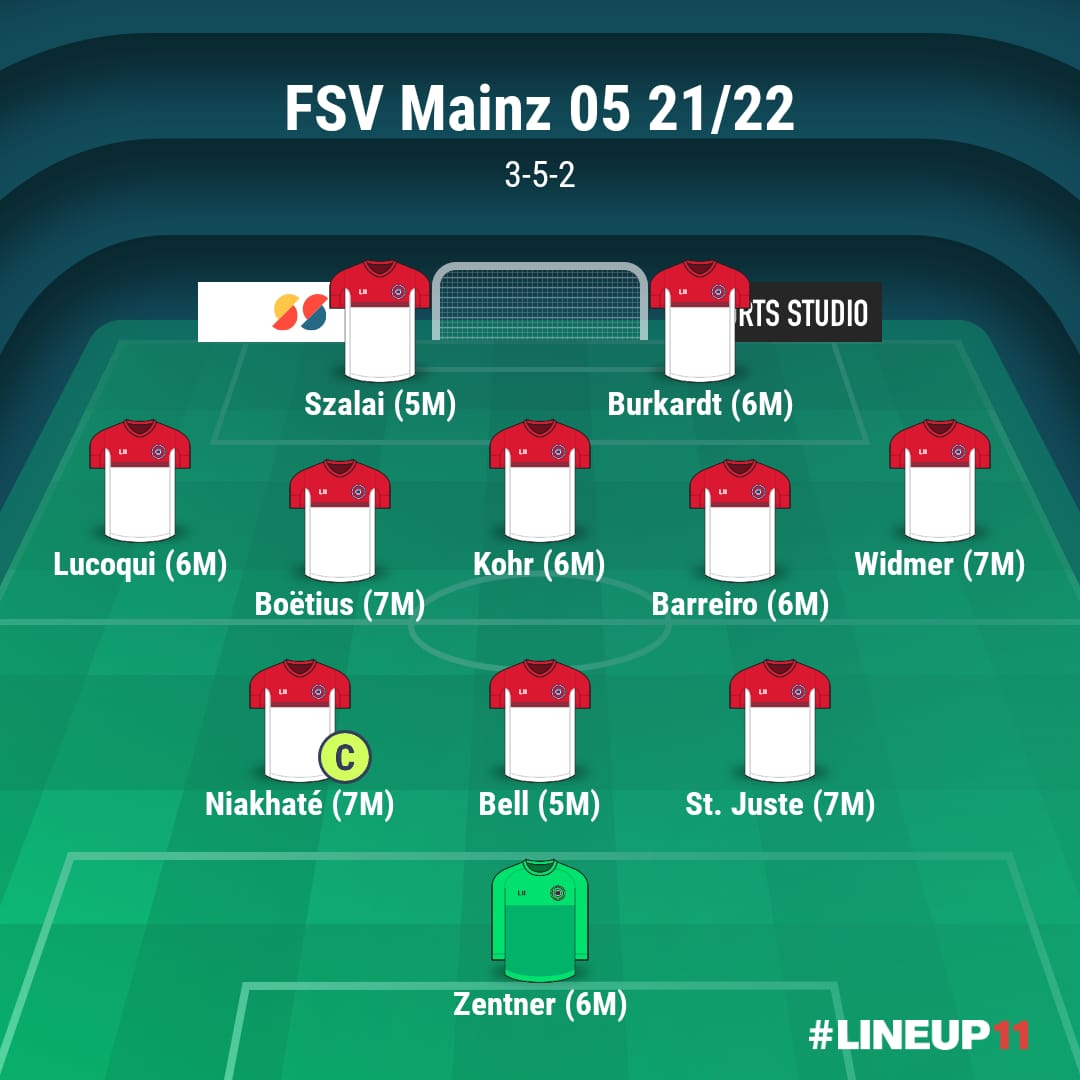 ---
You can find Bundesliga Fantasy resources for the 21/22 season here.
The creator of the website.