Our Bundesliga Fantasy team preview series continues with an in-depth preview of Arminia Bielefeld who finished 15th in the league last season.
Arminia is more likely to be mistaken for the country with a similar name and might seem like a "typo" at first since it is a name that is not recognized immediately but the club is one of the Bundesliga's most established names. The club, which was founded in 1905, has now spent over 16 seasons in the German top flight and they also hold the record for most promotions from the second to the first division, with eight.
The club's journey over the past 12 years has been nothing less than a rollercoaster ride with financial troubles and even a spell in 3. Liga – the third division of the German football pyramid. This makes Arminia's journey to secure promotion to the Bundesliga all the more impressive. Arminia were known for their defensive rigidity in the 2. Bundesliga but also possessed the best attack in the league as they won the league in 19/20 with one of the most dominant displays in recent seasons after being tipped as potential dark horses for promotion. Club captain Fabian Klos – who joined Arminia back when they were a third division team in 2011 was a significant figure in helping the team achieve promotion with 21 goals and 10 assists and was the top-scorer in the 2. Bundesliga for the year.
Fun Fact: In 1994 at a student party, a conspiracy theory was started that is now a common, standing joke in Germany: namely, that Bielefeld doesn't exist. The city, located in the western German state of North-Rhine Westphalia, actually has a population of over 300,000 and now hosts a Bundesliga club for the second consecutive year.
---
Hanging by a Thread
Right from the get-go, Arminia were touted as the favourites to be relegated in their first season back to the Bundesliga since 2009. It was never going to be an easy task for the Blues with only loan signing Sergio Cόrdova, backup striker Sven Schipplock and midfielder Marcel Hartel having experience of playing in Germany's top division before. The club did not possess a hefty bank balance like the other promoted side VfB Stuttgart so the budgetary constraints prevented the club from making any significant signings to bolster the squad.
Arminia had a flying start to the campaign with a 1-1 draw away against Frankfurt on Matchday 1 and a 1-0 win in their home opener against counterparts Köln the next but it all went downhill from there. The team endured a seven-game losing streak after that till Matchday 10 when they got the better of 17th Placed Mainz in a 2-1 win. Arminia kept yo-yo-ing between the 15th and the 17th spot for the rest of the season with their 0-0 draws and 1-0 wins being a major source of their points.
With just three matchdays left, the team was in a relegation playoff spot at 16th with only one point separating 17th placed FC Köln and 15th placed Werder Bremen on either side. It was a tough equation for the blues who had just come off a 5-0 thrashing at the hands of Borussia and had the toughest draw amongst the three teams to end the season with a home game against Hoffenheim and two away games against Hertha and Stuttgart.
In an incredible display of grit and strength with everything to play for, Arminia secured draws against Hertha and Hoffenheim to set up a finale on Matchday 34 against high-flying Stuttgart with the prize at stake being a spot in the Bundesliga. However, at this point, the blues finally had some luck with other results going their way and even a loss would guarantee the team a place in the relegation playoffs at the minimum.
In a highly dramatic and suspenseful game, there couldn't have been a more fitting player to give the team a lead than captain Fabian Klos. Star player Ritsu Doan added another goal just six minutes later to secure a 0-2 victory and another year of top-flight football for the club.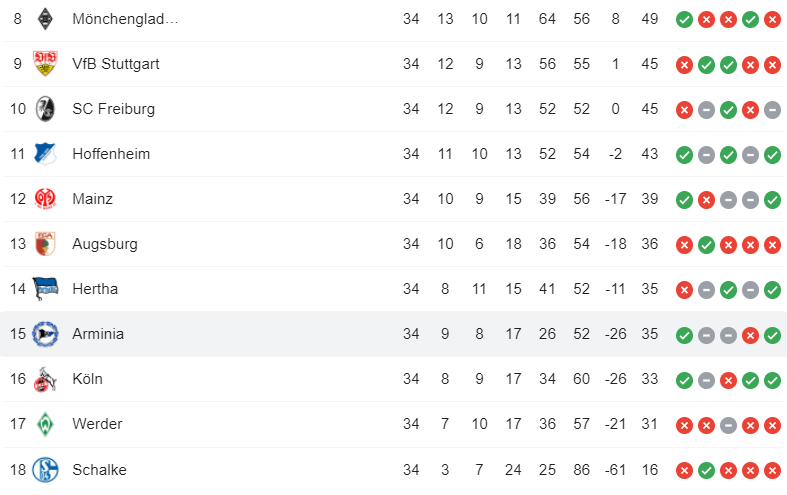 Arminia Bielefeld scored the fewest goals at home last season with just 13 goals at the Bielefelder Alm. One behind Schalke's 14 goals at the Veltins Arena.
---
---
Missing: Shooting Boots
To put it into perspective how bad Arminia were in attack, only relegated team Schalke who were having their worst season in the Bundesliga ever scored fewer goals (25) than Arminia Bielefeld's 26. It is also the lowest number of goals scored by a team that survived relegation over the past seven years. FC Nürnberg scored 26 goals in the 18-19 season and were relegated to the second division.
The team lacked playmakers and relied heavily on loanee Ritsu Doan (5 goals, 2 assists) to create opportunities from the wing and score goals. Fabian Klos (5 goals, 2 assists) also led the team in scoring as no other player scored more than three goals for the team. Arminia's lack of finishing did not help the cause with Doan mostly being at the receiving end of it.
⚽ Goals: 26 (17th)
🅰️ Assists: 16 (18th)
💡 Big Chances Created: 31 (15th)
❎ Big Chances Missed: 29 (15th)
🚀 Total Shots: 329 (17th)
🎯 Shots on Target: 100 (17th)
📈 xG: 30.7 (17th)
📊 xG Per Game: 0.9 (17th)
The top 8 players in attacking involvement for the team
| Player | Position | Matches Played (Subs) | Goals | Assists | SpG | KeyP |
| --- | --- | --- | --- | --- | --- | --- |
| Ritsu Doan | MID | 33 (1) | 5 | 2 | 2 | 1.4 |
| Fabian Klos | FWD | 32 (2) | 5 | 2 | 1.6 | 0.9 |
| Andreas Voglsammer | FWD | 11 (7) | 2 | 2 | 1.8 | 0.6 |
| Sergio Córdova | FWD | 13 (10) | 2 | 1 | 0.9 | 0.5 |
| Amos Pieper | DEF | 30 | 1 | 1 | 0.5 | 0.2 |
| Manuel Preitl | MID | 28 | 1 | 1 | 0.6 | 0.4 |
| Michel Vlap | MID | 5 (2) | 1 | 1 | 0.4 | 1 |
| Christian Gebauer | MID | 5 (18) | 1 | 1 | 0.4 | 0.5 |
SpG = Shots per Game

KeyP = Key Passes Per Game
Note: No other player was involved in more than one goal for the team.
---
Park the Bus
If defending is your best attribute then why not use it to its full extent? Arminia built a reputation as being one of the best defensive teams in the second division in recent years and it was a characteristic trait for the blues last season as well. Even though the team did not have much to offer going forward, the defence always made sure that they weren't too vulnerable at the back. It might come as a surprise for some but the newly-promoted team had one of the best defensive records in the Bundesliga with 11 clean sheets to their name (tied with Borussia Dortmund). Only Leipzig (15) and Wolfsburg (14) had more shutouts than the Blues.
The team's success in restricting opposition players from scoring can mainly be attributed to their low block defensive system where the players defend very deep in their own half and restrict the space for opposition players to exploit. That and keeper Stefan Ortega who was a wall for Arminia last season, saving everything that came his way. He is the reason that despite being 17th for xGA, the team was only seventh for goals conceded while keeping more clean sheets than champions Bayern Munich. Ex-bvb Centre back Amos Pieper who won the U-21 European Championship with Germany this year was also a key member in defence with strong defensive displays to help the team survive wave after wave of opposition attacks.
🥅 Goals Conceded: 52 (7th)
🚫 Clean Sheets: 11 (3rd)
🧤 Penalties Conceded: 6 (10th)
🚀 Total Shots Conceded: 440 (11th)
🎯 Shots on Target Conceded: 166 (15th)
📈 xGA: 55.7 (17th)
📊 xGA Per Game: 1.64 (17th)
The involvement of defenders in goals is almost non-existent for Arminia but they aren't the worst options available in Bundesliga Fantasy at 4M considering their clean sheet potential.
---
Finding Doan's Replacement
Japanese international Ritsu Doan who was on loan from PSV Eindhoven in the Eredivisie was arguably the team's best player in attack and despite Arminia's efforts to sign him permanently, the club won't be able to afford his asking price of 5M. His price tag is definitely not lofty by any means for the quality player that he is but you have to consider the fact that Arminia are still trying to stability financially after multiple spells in the second and third division that has been made worse by the pandemic.
The club has been busy trying to replace him this summer with reinforcements such as fellow Japanese international Masaya Okugawa (9 goals and 4 assists in the Austrian Bundesliga in 19/20) from the talent factory that is RB Salzburg which has produced some of the best young talents in the world such as Haaland, Kimmich, Mané and Szoboszlai. Arminia also lost striker Andreas Voglsammer to Union Berlin on a free transfer.
Other notable attackers to have joined the club this window include Alessandro Schöpf from Schalke and wonderkids Bryan Lasme (9 goals, 2 assists) from FC Sochaux, Florian Krüger (11 goals, 7 assists) from FC Erzgebirge Aue and Holstein Kiel's top-scorer last season – Janni Serra (13 goals, 3 assists). So many transfers does raise the question about whether Arminia could've just bought Doan with all the money spent instead.
---
Arminia Bielefeld's Pre-season Results
vs SC Verl 0-3 (L)
Goal(s): –
Assist(s): –
vs Hannover 96 1-0 (W)
Goal(s): Serra
Assist(s): Lasme
vs VfB Stuttgart 2-5 (L)
Goal(s): Krüger, Nilsson
Assist(s): Rausch
vs SC Wiedenbrück 1-1 (D)
Goal(s): Lasme
Assist(s): Gebauer
vs FC Twente 1-1 (D)
Goal(s): Klos
Assist(s): Schöpf
Players with attacking returns for Arminia Bielefeld in pre-season
| Player | Goals | Assists |
| --- | --- | --- |
| Bryan Lasme | 1 | 1 |
| Florian Krüger | 1 | - |
| Fabian Klos | 1 | - |
| Joakim Nilsson | 1 | - |
| Janni Luca Serra | 1 | - |
| Alessandro Schöpf | - | 1 |
| Christian Gebauer | - | 1 |
| Fynn Hagen Rausch-Bönki | - | 1 |
Note: This list is accurate as of 5th August. You can find the updated list and match reports on DNL Fantasy's website.
---
---
Arminia Bielefeld Players to Watch Out for in Bundesliga Fantasy
The highest scoring keeper in Bundesliga Fantasy last season with 234 points, Ortega was a hidden gem that started the season at just 5M and finished the season with the highest save percentage (71.7%) and the second-highest number of saves in the league (129) after Augsburg's Rafał Gikiewicz (120).
His high floor and consistency because of the sheer amount of points for saves that he got meant that Ortega was fantastic even as a standalone option among keepers and was a must-have throughout the season. Although he has received a generous but well-deserved price bump to 8M now, he will still be one of the best keepers to own in Bundesliga Fantasy this season as he looks to replicate his heroics between the sticks that kept Arminia up last season.
A mid-season managerial change meant that Frank Kramer took over the reins at the Bielefelder Alm from Uwe Neuhaus and the team made a steady improvement under the new coach, especially in defence. The blues were 9th in the form table for their last six games and other than the one game where the team lost 5-0 to Borussia, Arminia only conceded 5 goals in their other 10 games under Kramer while keeping six clean sheets. If this same trend continues next season then the cheapest defender from the club – Jacob Laursen – could be a shrewd pick at just 4M.
Alessandro Schöpf (MID, 6M)
A relatively unknown player in Bundesliga fantasy circles with unknown potential, Schöpf didn't have the best season last year with Schalke, to say the least. The Austrian midfielder did not have a single goal involvement in the Bundesliga and was mostly used as an option off the bench.
Schöpf, however, has received another opportunity to revive his career with Arminia and has been handed set-pieces duties by the club in an attempt to fill the void left by Doan on the right-side of midfield – where the team drew most of their attacking plays from. He has looked like the most involved player in attack for Arminia in pre-season but it is still recommended to wait and watch to see whether it will be him or Masaya Okugawa who will take over as the club's talisman in attack.
---
To Sum It Up
The signs for Arminia aren't great. Winger Ritsu Doan was essential in helping the blues survive relegation last season with his eye-catching individual performances and in his absence, one of Schöpf and Okugawa will have to step up their game big time for the club to have a fighting chance in the Bundesliga.
The only positive so far is that the club has been able to retain their entire defence which was seventh for goals conceded and kept the third-highest number of clean sheets. Especially keeper Stefan Ortega who was one of the best keepers in the league last season and was rumoured to have potential suitors such as Bayern Munich and VfB Stuttgart interested in securing his services.
It isn't going to be easy for the club from North Rhine-Westphalia to survive relegation again with tough competition from newly promoted clubs SpVgg Greuther Fürth and VfL Bochum. They were in the same spot last season, however, as one of the favourites to be relegated but one shouldn't rule Die Arminen out, especially if they stick to their greatest strength – Defending.
---
Arminia Bielefeld Expected Lineup for the 21/22 season
---
You can find Bundesliga Fantasy resources for the 21/22 season here.
The creator of the website.