Tipster Bornob Munna shares his UCL Fantasy team for matchday 10, including his captain pick and differentials.
---
Here is my UCL fantasy team for matchday 10.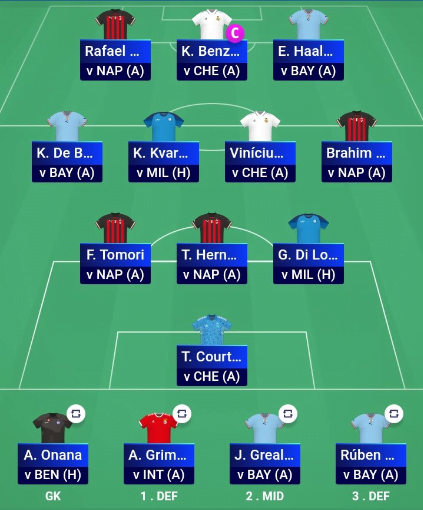 4 Milan players✅✅✅✅🔴⚫
4 City players✅✅✅✅🟦
No Bayern players 🟥❌
1 Benfica player ✅🔴
2 Napoli players ✅✅🔵
No Osimhen ❌
My first opinion that I picked Rafael Leao instead of Osimhen is that Leao has already been there and knows what it means to play for AC Milan. He will face Capitano Di Lorenzo, who was outnumbered in the League match. So Leao probably Will do the same thing.
---
---
UCL Fantasy AC Milan Picks
I know that this AC Milan of Pioli is inconsistent. But in some big matches, Pioli showed he could learn more and provided it in the game. Also, Milan players like Brahim, Tonali, Tomori, Kalulu, Maignan, and Capitano Calabria know what it means to play for Milan as they are AC Milan fans first and then players. My pick for Brahim is obvious if you look at how he is improving himself physically and tactically. Pioli might play him again as a #8, with also Bennacer to take on Lobotka and Demme, as there is no Anguissa. My pick of Tomori is probably biased, but I am a Milan fan and if Milan qualifies for the semis, I am not going to pick Inter defenders against my Milan team while I have a differential pick in Milan who are ball recovery bosses like Kalulu, Tomori, Thiaw.


UCL Fantasy Manchester City Picks
If you didn't pick KDB, now is the time for him to show his real class after watching Haaland beat Bayern, which he couldn't do playing for Dortmund. Ruben Dias my obvious pick for defence. Might get a goal from set pieces. And I have no doubt Bayern will be troubled by Grealish breaking and tearing apart their right side of defence as Upamecano makes awful mistakes. Though Tuchel might play Cancelo on the right but it wouldn't matter.


No Bayern Players
Many Bayern fans believe somehow they will come back, writing an example of a previous UCL match comeback against Porto. But they shouldn't be cocky. It's Manchester City, and they have got Pep, who has Gundogan, KDB, Maharez, and Bernardo as options for midfield. They have a defence problem, no doubt but Pep fixed it by playing Stones as a double-pivot midfielder with Rodri. So you can rely on City.
---
---
UCL Fantasy Napoli Picks
I don't think Napoli are gonna beat Milan. And if they do beat them, the huge impact maker would be Kvara and Di Lorenzo on both flanks of their attack.
UCL Fantasy Benfica Picks
I kept Grimaldo. But I know Benfica might not get the comeback they want. But the good news is Argentina's world cup winner, Nicolás Otamendi is back on the team. He might even start. So waiting for official news.
UCL Fantasy Madrid Picks
Vini And Benzema Duo is the obvious pick. Might get Fede or Rodryo if they qualify for the semi-final.
Goalkeepers Onana And Courtois probably gonna see Courtois keep a clean sheet. So keeping them on.


That's all for now. I hope you like my team. You can follow me on Twitter: @RamboMunna and my Facebook page: Bornob Munna. Thank you, and Good luck with your UCL Fantasy Team.
---
You can find UCL Fantasy resources for the 22/23 season here.