Need help setting up your team for the rest of the UCL Fantasy group stage? Tipster Mike Rachfal shares his team for the upcoming matchdays.
---
If you have used your 'limitless' chip (with failure) as I have, or if it's time to use your 'wildcard', it's time to think of the best possible lineups to help us get from week 3 to 6 of the group stage. Keep in mind that there are only two transfers allowed between matchdays without the use of a chip. So, we want to build a team to last.


Goalkeepers
Kepa (RMA) – 5.0M @ Braga, Oct. 24th
ter Stegen (BAR) – 5.5M vs. Shaktar, Oct. 25th
The logic here is simple. Real Madrid and Barcelona have strong matchups within their groups and play on different days. If the first keeper does poorly, make the substitution. The odds are high that one will keep a clean sheet. Barcelona has a soft group. Real Madrid hosting Napoli on matchday 5 is the only potential hiccup for them. However, would you like to bet against Real Madrid in this competition? I didn't think so.


UCL Fantasy Defender Picks
G. di Lorenzo (NAP) – 5.5M @ Union Berlin, Oct. 24th
D. Dumfries (INT) – 5.5M vs. RB Salzburg, Oct. 24th
K. Trippier (NEW) – 6.0M vs. Dortmund, Oct. 25th
N. Molina (ATM) – 6.0M @ Celtic, Oct. 25th
D. Raum (RBL) – 4.5M vs. RS Belgrade, Oct. 25th
You might pick up on my theme that I enjoy attacking fullbacks with nice matchups instead of centerbacks. We are looking for free kicks, corners, and crosses combined with a decent chance of a clean sheet. Dumfries and Molina are as much attackers as they are defenders. Trippier and di Lorenzo are the heart and soul of their club and are always likely to play 90 minutes and send several balls into the box. David Raum, priced at 4.5m, will be in all of my teams. He takes corners and some free kicks in addition to only having one more tough matchup versus Manchester City. He is a steal at 4.5M. These players are entrusted by their managers and he could easily snag an assist or more.
---
---
UCL Fantasy Midfield Picks
J. Bellingham (RMA) – 7.6m @ Braga, Oct. 24th
M. Ødegaard (ARS) – 9.1m @ Sevilla, Oct. 24th
B. Fernandes (MUN) – 9.5m vs. Copenhagen, Oct. 24th
L. Alberto (LAZ) – 6.5m @ Feyenoord, Oct. 25th
I. Gündoğan (BAR) – 8.0m vs. Shaktar, Oct. 25th
Remember, we are trying to get to the end of the group stage here. We need 90 minutes plus goal involvements over 4 more matchweeks. Bellingham is simply not worth fading at 7.6m. He will likely regress at some point, but you have to stay with his brilliance at this price. Ødegaard and Fernandes occupy similar roles in their Premier League sides. They are captains, free kick takers, and even penalty takers. Manchester United have one more tough matchup against Bayern Munich, but they should expected to produce in the other matchups. I am betting big on Bruno to finish out the group stage, maybe at my own peril. Gündoğan and Alberto are also so central to the identity of their clubs right now that I want this for the long term. Yamal, Gavi, Pedri, de Jong are all out for Barcelona. Xavi trusts Gündoğan…so do I.
---
---
UCL Fantasy Forward Picks
R. Højlund (MUN) – 7.0m vs. Copenhagen, Oct. 24th
J. Alvarez (MCI) – 7.1m @ Young Boys, Oct. 25th
J. Felix (BAR) – 8.1m vs. Shaktar, Oct. 25th
We have reached the most controversial part of the selection. Alvarez, like Bellingham, is a steal for his price and matchups. I think it is time to fade Erling Haaland because of his high price and low floor. Alvarez is involved in everything for the Citizens and has a much higher floor. Barcelona, full of injuries, must be giddy for seeing Felix's name on their teamsheet. He has proven to be deadly in their attack and should feature even more without Robert Lewandowski, Raphinha, and Lamine Yamal.
Rasmus Højlund remains a controversial selection given that we need to reach the end of the group stage. Ousmane Dembele and Lautaro Martinez are guys that I love also, depending on your roster construction. Although Dembele could always get injured. You maybe even look to Napoli forwards with the Osimhen injury. I will go with Hojlund for his price. I believe that Erik ten Hag wants to use him. He arrived for a huge fee. He had a great matchday 2. If he can have a decent game in the Premier League over the weekend, this should only add to the confidence his manager feels about him to start big matches.


Summary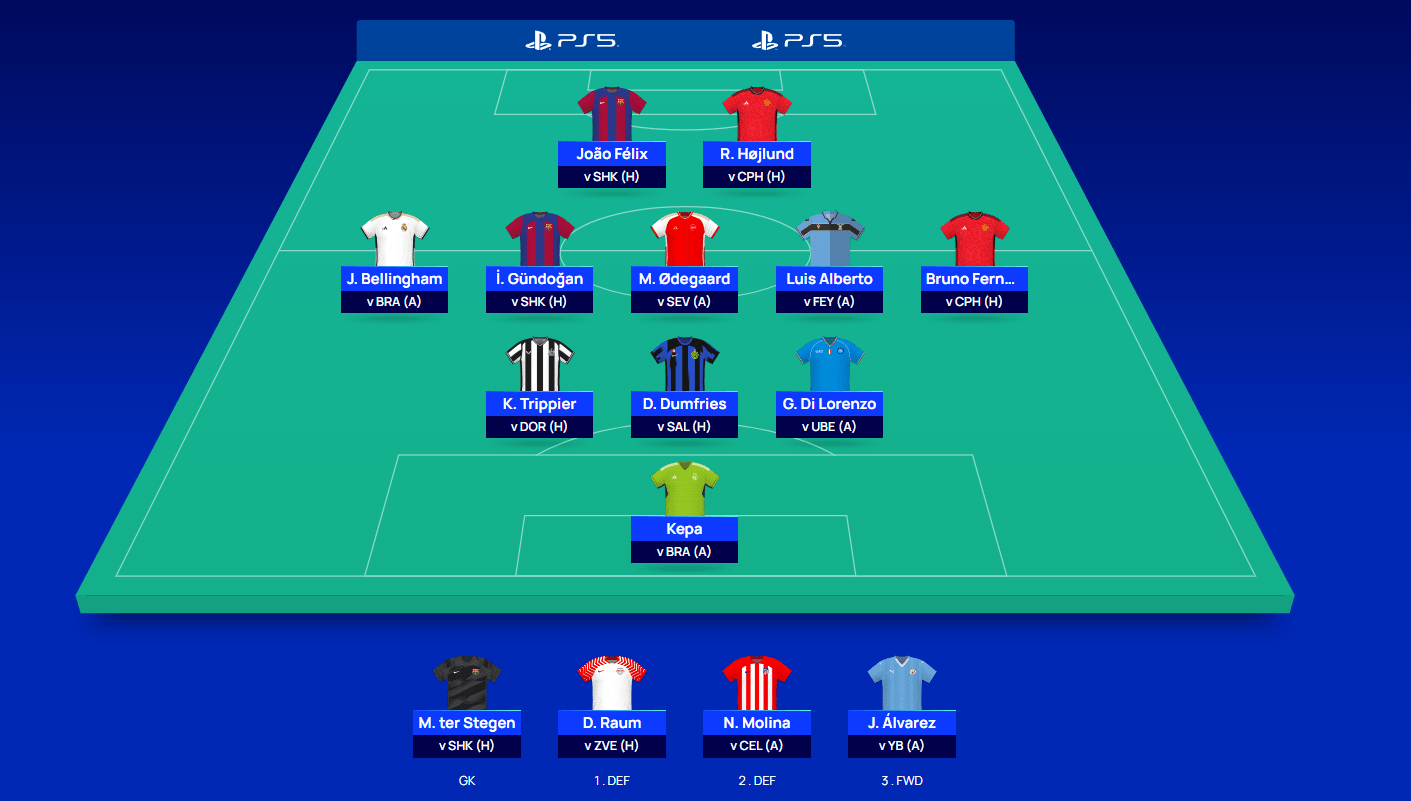 Remember, we want a squad evenly split between Tuesday and Wednesday. It does us no good to stuff all our players on one day. Even the best players fail…so sub them out. That is what this roster construction allows us to do. If you think Erling Haaland is ready to explode after not scoring recently, it's hard for me to criticize you. But this is why we love fantasy football.
---
You can find UCL Fantasy resources for the 23/24 season here.