Current team & Analysis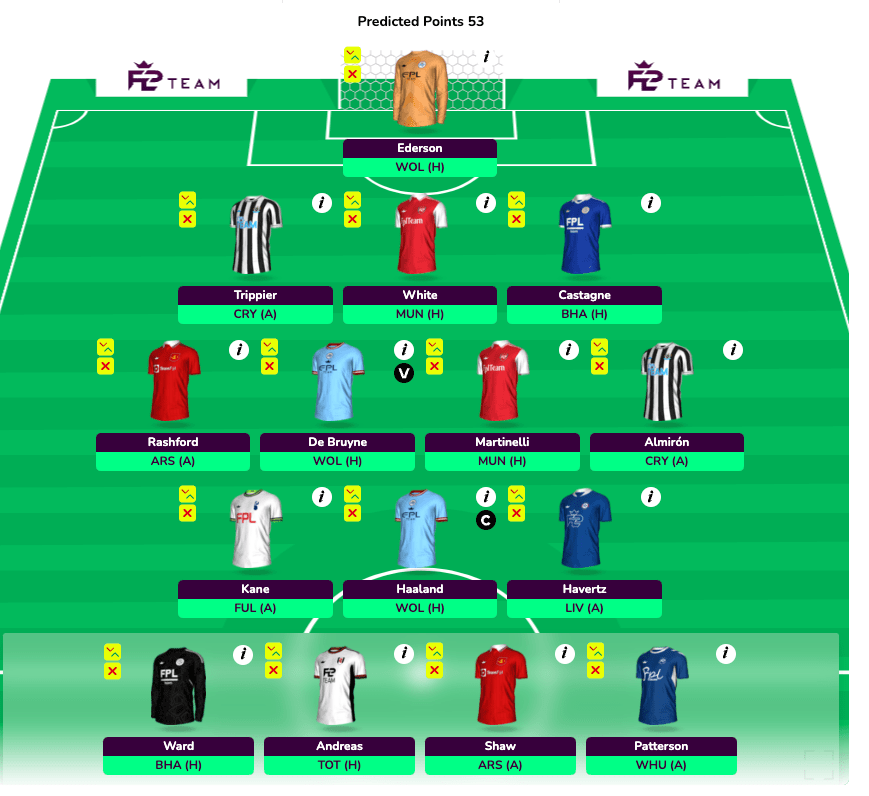 | Player | Position | Price | Why keep? | Why sell? | Alternatives |
| --- | --- | --- | --- | --- | --- |
| Ward | GK | 4.1 | Cheap as a lemon when it comes to playing goalkeepers. | Sweet as a lemon too. Leicester has been in a horrendous state defensively in the post world cup era. Even Iversen is not sitting comfortably on your bench watching you play Ward as the main goalkeeper. | – |
| Ederson | GK | 5.4 | Well, here is a bitter-sweet choice. The sweet part: avoiding the Pep roulette (which has been in peak performance this season, goddammit). If they re-discover their form, they have great future fixtures for clean sheets. | The bitter part: one clean sheet in the past 6 game weeks. They are as leaking defensively as it's your own personal data to the Google ads system. The silver lining: Ederson gives you 2 more points than Cancelo. | Pope, Ramsdale, Sanchez or Raya. |
| White | DEF | 4.7 | Well, wasn't he having fun on your bench after the Spurs game? Or after Newcastle's? Arsenal's defense can keep a clean sheet against any team this season, so why not book a nice and comfy spot for the double gameweek 23? A bit too many rhetorical questions in this paragraph, am I right? | Not a World Cup minutes or bonus points magnet. You can't be perfect, Benjamin! | Maybe Gabriel after he passes the yellow card hunger games. |
| Trippier | DEF | 6.0 | He's our system reference for dead teams, bots, and "What if, after I buy him, he gets injured for the rest of the season?" skeptics. Under 32% of them. | Stop trippin' boy and start trippier. | Don't be silly |
| Shaw | DEF | 5.2 | From Mourinho laughing with his buddies about Shaw's defensive abilities to being an essential part of Utd's row of clean sheets and great performances is a sublime redemption arc. Furthermore, Utd might have a double gw22 – playing Leeds and Crystal Palace. | If Shaw will still play in the central position, keep a close look at Dalot's attacking stats when he will be back. And on his hamstring too. But not that close, you creep. | Dalot |
| Castagne | DEF | 4.6 | I really tried to find a reason, but I will just drop a short paragraph from some history book: "Once every full moon, the Count was rising from his coffin, drank a Red Bull, and started creating mayhem everywhere he was going. Scoring Castagne's crosses or running behind the defenders, he was looking for spilled blood and then putting it in his post-game bloody mary. You could never be ready for Count Vardyla's rage". | Without Maddison, Leicester is not able to keep control of the possession → teams can press and get in good attacking positions easier → sun's rays block again Ward's vision → say goodbye to Castagne's clean sheet for me. In addition, one of the worst series of future fixtures. | Estupinan, Mee or Botman |
| Patterson | DEF | | It's your last position from your bench, I assume you have bigger fires to put out. Oh, you don't? You're in the top 1K and you've been rolling your FTs for the past 10 game weeks? Sure, go ahead, and switch him for Bueno. | Injured and playing in a Lampard's tactical system …cheap low blow | Bueno |
| Kevin De Bruyne | MID | 12.5 | When he is not taking random road trips during training sessions, he is a pivotal part of the midfielder, a bit more protected in the Pep roulette than other attacking options. He can go back in form based on the next fixtures. A double game week with City, a love story that usually ends with a punch in your face. | Having KDB from the start of the season feels a bit like the "Game of Thrones" development. A masterstroke in the first part of the season, amazing returns and paired with Kal Erling, nothing could go wrong, right? Well, as the book's material stopped, also the post-world-cup episodes became more and more disappointing. Maybe that budget can be used better to improve our midfield options. | Bruno or Mahrez |
| Rashford | MID | 7.1 | Great fixtures, possibly a double, is in-form, has great self-confidence in his abilities, the main offensive output for a great team. | | Odegaard, Saka or Rodrigo |
| Martinelli | MID | 6.8 | Before the start of the game, Arteta takes a 3-faced coin (they exist, just trust the process), and flips it. That's how it's decided whose performance will be the best between Martinelli, Odegaard, and Saka. You for sure have the value stored in Martinelli and you can double on Arsenal's midfield for the double game week 23 without transferring him out. The legend says that when the 3-faced coin will drop with Gabi's smile, you will regret shipping him out. | With the transfer of Trossard and Emile Smith-Row's return, he will start sharing some minutes with his lovely peers from the bench. Furthermore, his output stats are inferior to the impact that Odegaard and Salah have, therefore a transition to one of them might be for the best. | Odegaard or Rodrigo |
| Almiron | MID | 5.9 | Newcastle has great fixtures ahead and for his budget, getting a return once every two games is still great. | We might witness a drop in form as he has new guests at the "big chances conversion" table in Isak and Saint-Maximin. Furthermore, he was always outperforming his run-of-the-mill stats, so maybe the Paraguayan magic is starting to dissipate. | March, Mitoma or Bailey |
| Andreas Pereira | MID | 4.6 | If Nokia phone would be a player, that would be our great "first bench option" Andreas. He is playing offensively great within an attacking Fulham. He might become the first penalty taker if Mitrovic keeps shooting blindfolded. | In the current landscape, there are so many cheap alternatives to Andreas and you could switch to a 3-5-2 with Kane and Haaland leading the line and win your mini-league as fast as I can say "pneumonoultramicroscopicsilicovolcanoconiosis". | March, Mitoma or Bailey |
| Haaland | FWD | 12.2 | He might be a robot and score from any chance. | He might be a robot with a 5% battery warning. | Short answer: none / Long answer: Welbeck |
| Kane | FWD | 11.7 | The second-best premium after Haaland. He is consistent in getting attacking returns and now with the return of Kulusevski, the creativity in the final third has been improved and he has fewer responsibilities in the build-up and more in the finishing. Great fixtures looking ahead, out of the yellow cards tension. | Good low-priced alternatives in Toney, Nketiah or Wilson. Also, with the return of UCL in February and Richarlison being a spoilt brat, the packed schedule might have an impact on his performance. | Toney |
| Havertz | FWD | 7.8 | I always like to target weak defenses, and playing against Liverpool and West Ham in his next couple of fixtures looks really tasty. He might not have such a high ceiling with Chelsea's poor stats, but he might be a consistent 6-pointer. | Let's see Potter's new system and how the new signings will be integrated. What offensive responsibilities and final third positions will be assigned to Felix, Mudryk, and all the other 100+ mil. transfers done by Boehly in order to be competitive for the UEL places. A bit crowdy for a team scoring as much as Haaland. | Keep 3-4-3: Toney, Mbeumo, Wilson, Isak or Nketiah. Go 3-5-2: Ferguson |
Fixtures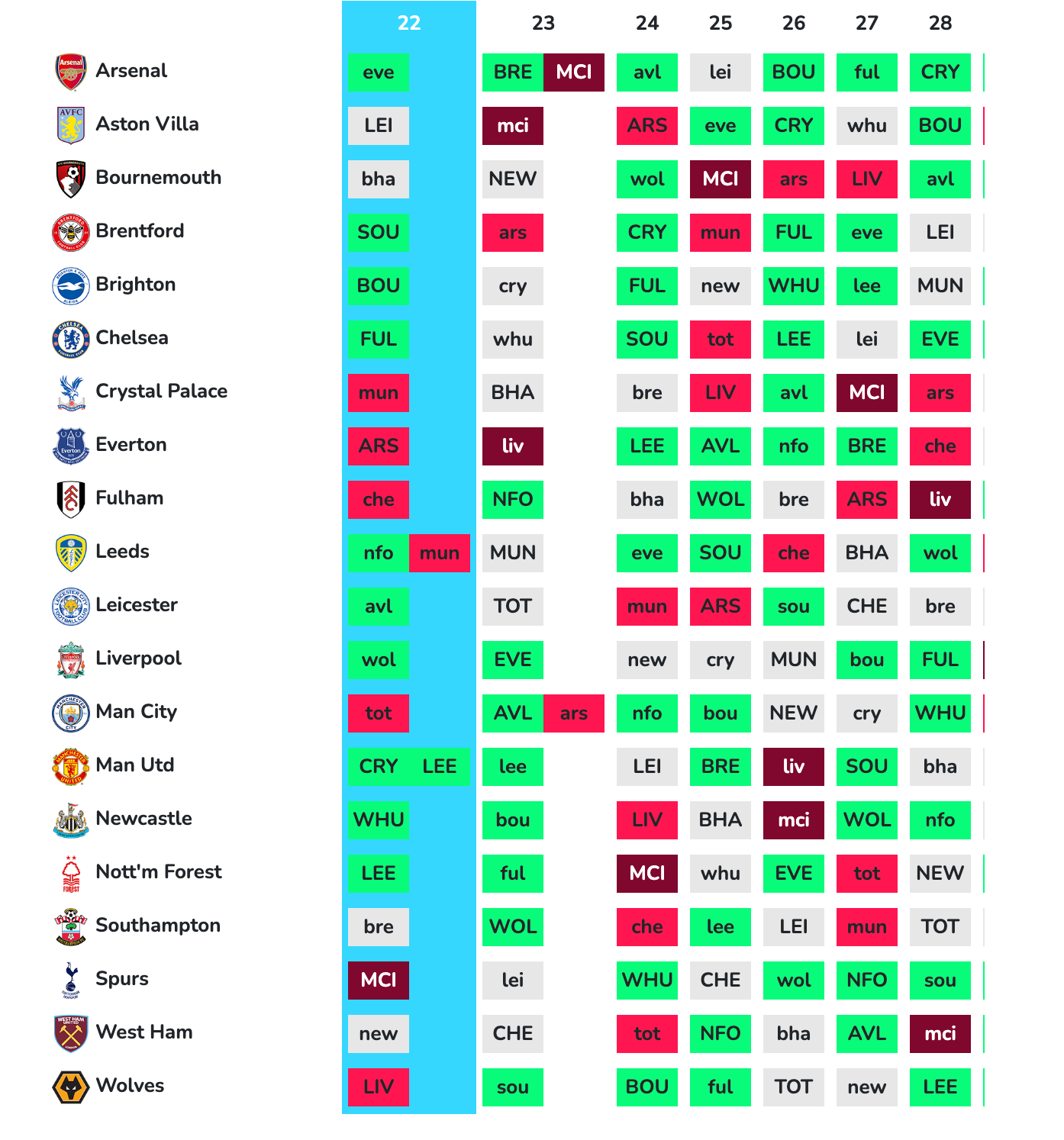 Future Strategy
In the next articles, we will discuss:
Hidden gems & punts for the next 5 game weeks.
Transfer ideas for the team – who to SELL, BUY, KEEP and AVOID.
We will discuss performances from the gw 21.
We will create together a Free Hit team for gw 22.
I can't fully enjoy sunbathing in January, is global warming really a thing or just a political hoax?
Sarcastically yours!
Passionate about data-driven decisions and fantasy football.
Currently top 8k in Fantasy UCL and top 900k in FPL.