FPL enthusiast Bornob shares his wildcard and chip strategies for gameweek 26 to gameweek 29.
---
FPL Gameweek 26 Wildcard Team
3x Brentford (Raya+Henry+Toney)
3x Brighton (Mac Alister+Estupinan+March)
3x Arsenal (Gabriel+Saka+Odegaard)
2x Newcastle (Trippier+Botman)
Rashford
Watkins
Haaland
Ward

This is the actual GW26 WC team
Triple Brentford and Brighton set you up nicely for future weeks, it allows you to keep all the season keepers and will allow you to have a great week and fly past all those not using WC. These 15 players give you 6x doublers in 27, 10x players in 28, and 14x doublers in 29 for a bench boost (of course using free transfers from 27-29). Will probably be 13 doublers in 29 actually, keeping Haaland and Saka as the single gameweek players.

Bench boost of Ward, Saka, Haaland, and Henry (6 fixtures).

Free hit will then be played in either GW32 or GW34 depending on FA cup progression.
---
---
Best Brentford Picks on FPL Wildcard
Who should be picked from Mee v Pinnock v Henry?

Let's look at the xGI/90 numbers since the restart:
Henry – 0.18
Pinnock – 0.13
Mee – 0.08
Surprisingly, the data suggests that Mee's attacking threat has been massively overhyped in comparison to the other Brentford defenders.

Considering Pinnock + Henry are basically just as nailed as Mee is, I don't see any reason to pay £0.5-0.6m extra for him. Pinnock is better on the BPS than Henry, however, Henry has the additional attacking threat. This makes it a very close call between the two.
However, Henry's ability to be shifted out to LWB when Frank switches to a back 3 during the tougher games, offers an additional element of attacking potential. This has historically been common during tougher games. Hence, I would slightly favor Henry over Pinnock.
Summary:

🥇 Henry (£4.5m)
🥈 Pinnock (£4.4m)
🥉 Mee (£5.0m)


Attack
🦁 Watkins v Toney 🐝

xGI/90 since the restart:
Toney – 0.76
Watkins – 0.54
Not only does Toney have the better underlying stats, but he's also been slightly underperforming his xGI/90 (-0.04), which is a sign that his current form is sustainable. On the other hand, Watkins has massively overperformed his xGI/90 (+0.35) in the same time frame.

This could be a sign that Watkins' returns will soon slow down, as he is typically the type of player to underperform rather than overperform his xGI. Owning both is definitely an option by bringing in Watkins for GW28 (potentially for Haaland/Kane) It is worth noting that Watkins will have two extra fixtures over Haaland over GW28-29. There is also an opportunity to move Toney back to Haaland in GW30.

Summary: Toney>Watkins

Note: Toney's hearing will be in April, so it's highly likely we can get through DGW29 before a potential ban is given.


🦁 Watkins (£7.3) v Kane (£11.7m) 🐓

Stats per appearance since the restart:
xG – 0.4 v 0.4
xGI – 0.5 v 0.5
Pen area touches – 4.8 v 4.9
Shots in the box – 2.2 v 2.5
Big chances – 0.8 v 0.6
Watkins has an extra fixture over Kane in DGW29 and a better BGW28 fixture. The main benefit of going for Watkins over Kane is that it allows us to keep Haaland and not worry about selling in GW28 and buying him straight back again in GW30.


Keeper – Raya
My reasoning for Raya ahead of Sanchez is that Raya makes more saves and I really like Estupinan. I know you get an extra fixture with Sanchez, still prefer Raya.

Saves Per 90 Season:
—–
Saves Per 90 Post World Cup:
Raya and Estupinan have a significantly higher ceiling than Sanchez + Brentford defenders for me. I'm not saying they 100% outscore them, but on paper, it's a better pairing, IMO. Because then you only get five doublers in GW27 unless you bench boost (and I prefer BB in 29).
---
Best Brighton Picks on FPL Wildcard
Pick from MacAllister v Mitoma v March.

xGI/90 of the Brighton midfielders since the restart:
March – 0.67
MacAllister – 0.61
Mitoma – 0.39
Despite the hype around Mitoma, I'd much prefer MacAllister + March as my Brighton attacking duo. Alongside Estupinan
---
Best Newcastle Picks on FPL Wildcard
Schar v Botman v Burn

Looking at xGI/90 since the restart, Schar is by far the standout option:
Schar – 0.32
Burn – 0.11
Botman – 0.08
Now, is Schär worth the £0.6m premium over Botman or Burn? In isolation, I'd say he definitely is. However…

If the second Newcastle defender you select (+ Trippier) will be your 4th/5th defender, you may be better off opting for Botman. Chances are, you will need that extra cash down the line. I'd avoid Burn as he could be rotated with Targett, who is back from injury.

Summary:

🥇 Schar (£5.1m)
🥈 Botman (£4.5m)
🥉 Burn (£4.5m)


---
Best Arsenal Picks on FPL Wildcard
Now comes the triple Arsenal. One is obviously Saka. Who would be possibly the next two?


Defence
Gabriel v Zinchenko v White v Saliba

Let's first take a look at the xGI/90 stats, since the restart:
Zinchenko – 0.21
White – 0.12
Gabriel – 0.11
Saliba – 0.06
We can rule out Saliba. He is the most expensive, has the worst attacking threat and is a yellow card magnet. Whilst Zinchenko looks to have the highest upside with an impressive 0.21 xGI/90, there is a notable rotation risk with Tierney.

Arsenal have a tough Europa League tie against Sporting, so the fixtures will be coming thick and fast. This is where Gabriel's nailedness is important. We know for sure he will start every game, unlike Zinchenko and White, especially at this stage of the season. This is why I'd slightly prefer Gabriel over Zinchenko. White is also a fine pick if you need to save £0.5m.

Summary:

🥇 Gabriel (£5.2m)
🥈 Zinchenko (£5.1m)
🥉 White (£4.7m)
4️⃣ Saliba (£5.3m)
Midfield
The third pick from the Gunners and an attacking one from the fox Maddison?

Odegaard v Martinelli v Maddison

xGI/90 since the restart:
Martinelli – 0.60
Maddison – 0.53
Odegaard – 0.49
Despite Martinelli having the best numbers when filtering only appearances over 45 minutes, there is a major rotation risk present. With Jesus due back very soon, we probably won't see Trossard + Martinelli in the same lineup.

And with the Europa league and the fixtures coming quick, I wouldn't be confident of Martinelli's xMins going forward. Many are planning to sell Odegaard to strengthen their BB29 teams. However, is it a better option to select Maddison instead and save yourself a transfer?

Upcoming fixtures:
Maddison – sou, bench, bre, cry+AVL.
Odegaard – BOU, bench, CRY, LEE.
It really does depend on how much you value Odegaard's BOU and CRY home fixtures over Maddison's sou and bre away fixtures. For me, the safer option is to start with Odegaard, but there's not much in it.

Summary:

🥇 Odegaard (£7.0m)
🥈 Maddison (£8.1m)
🥉 Martinelli (£6.5m)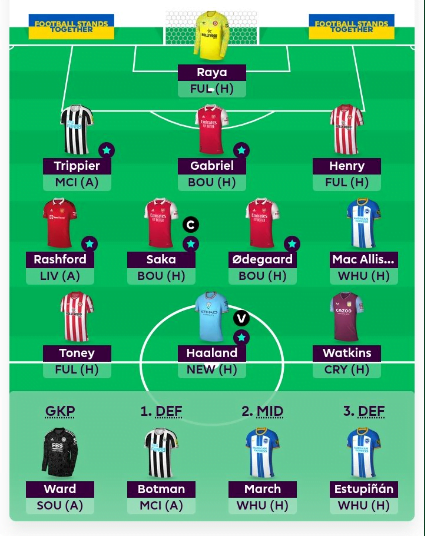 This is how I plan to get through GW 26-28 then go for Bench boost in 29 and probably free hit after 31 realizing the situation of the FA Cup schedule.
The plans I am exacting are pretty similar to FPL expert @FPL Raptor (Ross), @FPLOLYMPIAN, and @FPLEwork27. They all shared outstanding thoughts which I kind of overlooked even tho I had already played my WC.
---
You can find Fantasy Premier League (FPL) resources for the 22/23 season here.