Despite mainly being used as an enabler, the 4.0M defender is one of the most mythical positions in the GAFFR Fantasy community. Defenders at this price have the potential to be anywhere from bench-warmers who will play next to zero minutes to OOP (Out Of Position) gems who will be valuable budget busters (e.g., Lundstram 19/20), and because of the underrated upside the players in this price slot can have, I feel that it is essential to make sure we can find the best options from this range. In this article, I will go over some players who I consider to be good picks in this bracket for the 21/22 GAFFR Fantasy Championship season.
---
Demetri Mitchell (Blackpool)
🔄 Appearances (Subs): 15 (20)
🕒 Minutes Played: 1,546
⚽ Goals: 1
🎯 Assists: 4
⛔ Clean Sheets: 4
First 5 Fixtures:
Bristol City (A)
Cardiff City (H)
Coventry City (H)
AFC Bournemouth (A)
Millwall (A)
Despite not always being first-choice for Blackpool last season Demetri Mitchell has made a very good case for a place in the starting 11. The 24-year-old has had a fantastic start to pre-season, scoring twice in as many games after a good end to the last campaign. In my opinion, Mitchell is likely to be the 4.0M defender who plays the furthest forward for their side with 8 of his 15 starts last season being as a winger which gives him more of a license to bomb forward and get involved in the Blackpool attack. The biggest risk with Mitchell is that he is an injury concern with a long history of being on the sidelines and nobody wants to waste a free transfer on their 4.0M defender.
Mitchell has decent fixtures to start the campaign with games against Bristol City and Coventry and has the best potential for clean sheets and an attacking return. For me, Bristol City is one of the weakest sides in the Championship this season and definitely a side you should be looking to target in GAFFR. Last season they had the least Expected Goals For (39.3) and the most Expect Goals Against (74.8).
---
---
Clarke Oduor (Barnsley)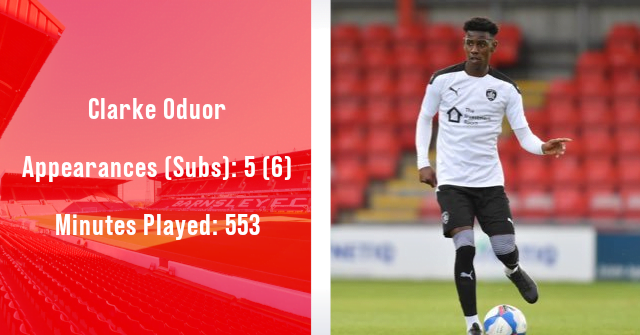 🔄 Appearances (Subs): 5 (6)
🕒 Minutes Played: 553
First 5 Fixtures:
Cardiff City (A)
Coventry City (H)
Luton Town (H)
QPR (A)
Birmingham City (H)
Kenyan international Clarke Oduor wasn't favoured last season at Barnsley but the fans of the Tykes have hopes that this could be the former Leeds man's year. The pacey 22-year-old is a fan favourite at Oakwell and is another player who has started preseason on a good note, bagging a goal vs Sheffield Wednesday. Odour has the edge over someone like Mitchell as he does have crucial Championship experience under his belt. If he can cement a place in the starting XI under new manager Markus Schopp, Oduor would definitely be the best GAFFR pick at 4.0M in my opinion however at the minute it is unknown how many times he will feature.
Should Oduor get a starting berth he will have pretty good fixtures to start the campaign, three home games is always a good start and their home fixtures also happen to be favourable for clean sheets, while they don't face any particularly strong defences which could also lead to the odd attacking return for Barnsley's wide players.
---
Peter Kioso (Luton Town)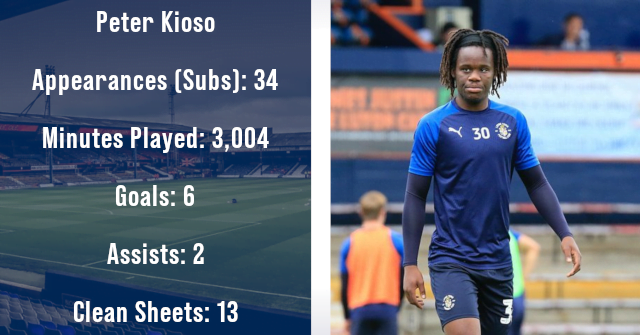 🔄 Appearances (Subs): 34
🕒 Minutes Played: 3,004
⚽ Goals: 6
🎯 Assists: 2
⛔ Clean Sheets: 9 (Northampton Town/League One), 4 (Bolton/League Two)
First 5 Fixtures:
Peterborough United (H)
West Brom (A)
Barnsley (A)
Birmingham City (H)
Sheffield United (H)
Before I go on, I should add that Kioso's playing time was split between League One and Two last season which would obviously require him to make a huge step-up to the Championship. As far as I can tell, Kioso had the most attacking returns out of any 4.0M defenders last season with eight, obviously at a lower level as I previously mentioned but it is still impressive. However, he also had one of the worst disciplinary records in the league. Kioso is likely to be back up to James Bree (4.5M, DEF) but his impressive loans spells give him a chance for minutes in an ever-improving Luton side.
As far as fixtures go this won't be an easy start to the season for Luton who play two of the three relegated sides in the first five matchdays. They do have Peterborough and Birmingham at home which could potentially be games to target for early clean sheets.
---
---
Kyle McFadzean (Coventry City)
🔄 Appearances (Subs): 37 (1)
🕒 Minutes Played: 3,292
⚽ Goals: 2
🎯 Assists: 1
⛔ Clean Sheets: 10
First 5 Fixtures:
Nottingham Forest (H)
Barnsley (A)
Blackpool (A)
Reading (H)
QPR (A)
If you're content with a 4.0M defender who is just going to sit on your bench and collect 2 points on most weeks, then centre back Kyle McFadzean is your man. Despite being 34, McFadzean is likely going to be the player on this list who collects the most minutes this campaign however with reduced attacking potential compared to some other options. He may pop up with a goal or two with headers from corners so he may be a shrewd pick. The main negative point surrounding McFadzean is that aged 34 he is having to transition his game which is leading to more fouls and therefore more bookings.
As for fixtures, McFadzean could likely pick up a clean sheet or two in Coventry's opening run with matches against Nottingham Forest and Blackpool the games where I see Coventry could keep a clean sheet.
---
Conclusion
In conclusion, there aren't too many 4.0M options that will likely get you a lot of points but you can't expect much from a player that virtually costs nothing. I think for the most part the GAFFR bosses have done a very good job of pricing, particularly in this price range. None of the 4.0M options who are considered "nailed" are attack-minded players which I think is a big positive as a starting 4.0 full-back would be pretty over-powered and would take away the choice we have to make. Personally, I would rank the four GAFFR assets I listed as follows:
Demetri Mitchell
Kyle McFadzean
Clarke Odour
Peter Kioso
I hope this little guide has helped you decide on a pick for your GAFFR 21/22 team and remember, never underestimate the enablers. Thank you for reading!
---
You can find additional GAFFR Fantasy Championship resources for the 2021/2022 season here.