Saprsborg have been firing on all cylinders with 12 goals in their last three Eliteserien games. With a match at home against Sandefjord, tipster Jacob Silkstone thinks it is a good time to double or even triple up on their attack in Eliteserien Fantasy.
---
Eliteserien Fantasy GW11 Recap
We started last week's preview by filling our Team of the Week with Molde players. In came Martin Linnes, Magnus Grødem and David Datro Fofana, only for Molde's game against Jerv to be cancelled because of a Covid outbreak in the Jerv squad. Our last-minute replacements weren't particularly successful, but it was a strong week for our original picks as Ole Christian Sæter smashed a hat-trick past Kristiansund and Brice Wembangomo registered his highest score of the season. Bizarrely, even keeper André Hansen chipped in with an attacking return after the Kristiansund defence failed to deal with a long punt upfield. Our total score was 64, compared to an overall average of 41.
The Molde game has now been rescheduled to GW12, giving us (assuming there aren't any further Covid cases) a double gameweek for Jerv, Kristiansund and Molde. Struggling Vålerenga have a blank, but that's unlikely to affect too many of the active fantasy managers.
Where are my autosubs?
Just before we begin sifting through the Jerv and Kristiansund squads in search of a hidden gem or two (but probably not three), a word on the autosub/bonus point situation this week. The Eliteserien Fantasy game didn't fully update until late on Thursday, four days after the last match of the round. Although we understand that the fault lay with OPTA rather than the people running the game, the lack of communication was still disappointing: having been comfortably over 50,000 a couple of seasons ago, the player base for Eliteserien Fantasy has now dropped to around 35,000 and risks dropping further if the game is mismanaged. Quick rank updates and fresh chip ideas were a major selling point of the Eliteserien game in the first couple of seasons, and it's starting to feel like things are getting a little stale. Here's hoping that it doesn't continue that way.
---
---
Eliteserien Fantasy GW12 Picks
Goalkeeper
Kristiansund still only have one point all season, but their defensive stats suggest they've been unlucky. Six teams have a higher xG conceded total, but only three have actually let in more. Serigne Mor Mbaye (4.4M) has been solid since replacing Sean McDermott in goal, registering 17 saves across his three games so far. Owned by just 1% of teams overall, he's a reasonable differential pick for the double gameweek.
Defence
Having toyed with the idea of a Molde defensive double-up several times this season, the double gameweek announcement has persuaded us to back both Kristoffer Haugen (7.4M) and Martin Linnes (7.2M). Rotation is a slight concern, but both were subbed early in the midweek cup game (Linnes scored, while Haugen provided an assist, highlighting their attacking potential) and even starting one of the two fixtures could be enough for a haul.
Haugesund's Danish centre-back Søren Reese (4.9M) comes into our team for the first team this season. Targeting defenders with a fixture against Jerv has been a successful strategy for most of the year, and Reese is top of the pack for Haugesund. He has four bonus points so far this season, to go with one goal and one assist.
Midfield
Sticking with Haugesund's fixture against Jerv, Alioune Ndour Badou (8.7M) is the most in-form player in the league at the moment, with five goals and an assist from his last four starts. Jerv are on a run of five consecutive defeats and last kept a clean sheet back in GW3. Backing Badou seems like an obvious choice, although Christos Zafeiris is a cheaper option if you're looking to manage your budget.
Sandefjord sit second in the league for xG conceded, while Sarpsborg are third for expected goals. All the signs point to a high-scoring game at Sarpsborg Stadion this week, so we're doubling up on the home team's formidable midfield with Jonathan Lindseth (8.6M) and Tobias Heintz (8.1M). Both are in the top six for xA this season, and Lindseth (still owned by just 9% of teams) is one of our top differentials for this week.
Turning back to the double gameweek teams, Amidou Diop (4.5M) is a budget pick with some potential to get bonus points and attacking returns. Diop averages more than 3 shots per 90 minutes, far higher than anyone else on the Kristiansund team and has two goals already this season.
In a particularly severe case of DGW fever, we're ignoring the Bodø/Glimt assists to give a midfield place to Jerv's Aral Simsir (6.4M). Sitting in 0.3% of teams overall, Simsir has been Jerv's biggest attacking threat for most of the season (admittedly, that's not saying much). We're allowed one wild punt, aren't we?
Attack
We had been reserving the first slot in our forward line for the return of Veton Berisha, but the latest news from Stavanger is that he's unlikely to play in Viking's clash against Rosenborg. Daniel Karlsbakk is fantastic value as a direct replacement, but we'll take the opportunity to bring in a third Sarpsborg player with Guillermo Molins (8.2M). Molins has scored in both of his previous two starts at home (technically, he's scored in his last three starts, but one of those goals was past his own keeper) and is second in the league, behind only Berisha, for xG this season.
With the double gameweek firmly in mind, we're handing David Datro Fofana (10.7M) the captaincy. Fofana has scored in each of his last three games for Molde, and looks to have made the centre-forward position his own. Magnus Grødem is also a viable route into the Molde attack this week, but Fofana ranks in the league's top 10 for xG per 90 minutes and should have a much higher ceiling.
---
---
Fantasy Eliteserien Team of the Week Gameweek 12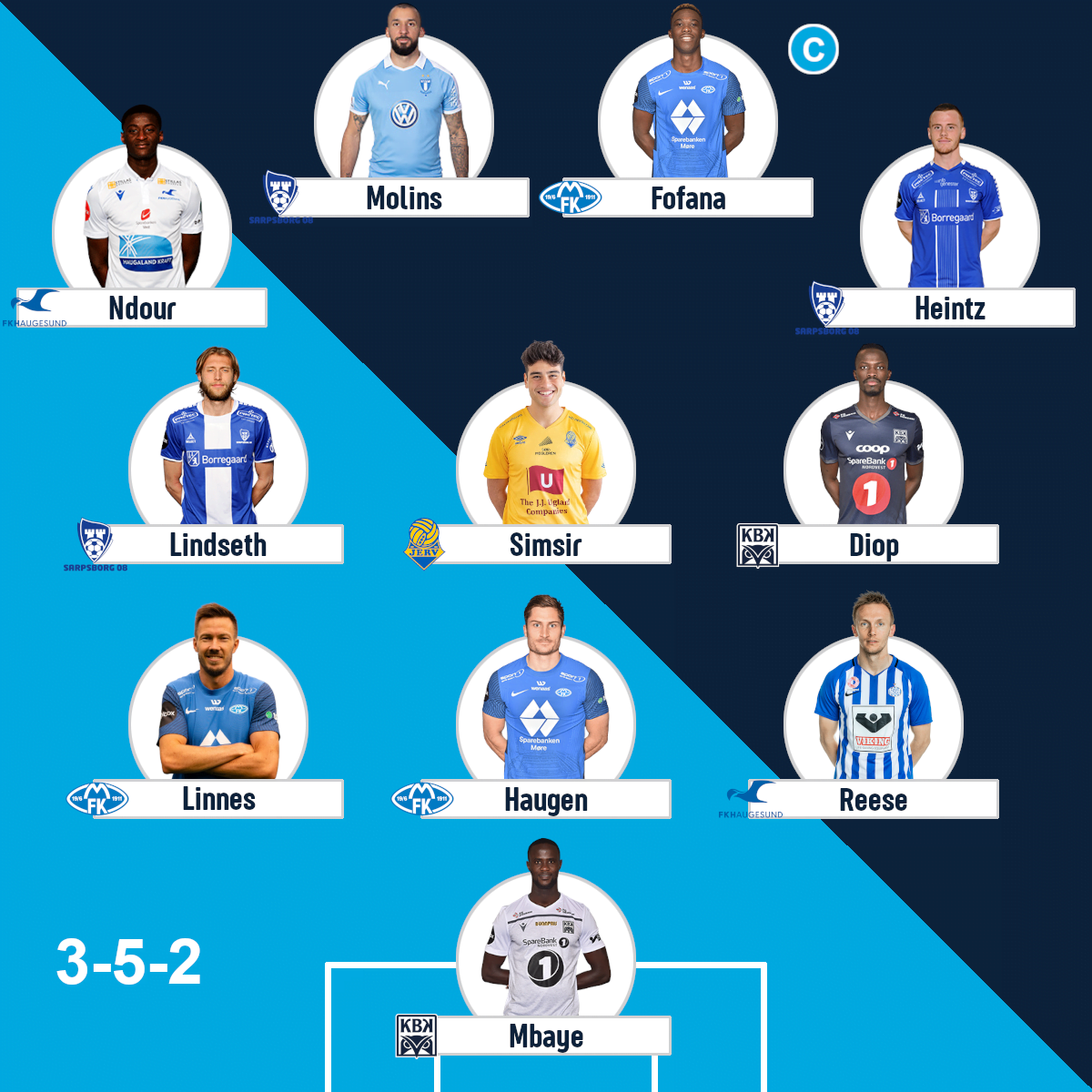 ---
You can find Fantasy Eliteserien resources for the 2022 season here.
Jacob is an all-round fantasy expert with 2 top 10K finishes in FPL, a best finish of #82 in GAFFR and #124 in Fantasy Eliteserien.