Finally, after 28 games in AFCON 2021, we have reached the competition's semi-final stage. Four countries remain with around 100 players left to choose for your AFCON Fantasy team, down from about 672 at the start of the tournament. In this article, we look at the best player picks to consider for matchday 6, including differentials.
---
AFCON Semi-final Preview
Teams and Schedule
| Date | Time | Fixtures |
| --- | --- | --- |
| 2nd February | 20:00 PM | Burkina Faso vs Senegal |
| 3rd February | 20:00 PM | Cameroon vs Egypt |
Rules
In the semi-finals, we are allowed to have up to eight players from the same team while having eight free transfers to use. Also, we don't have to worry about eliminated teams as the teams that lose in the semi-finals will battle for third place, and that game will also count for fantasy.
---
🇧🇫 Burkina Faso vs. Senegal 🇸🇳
Burkina Faso 🇧🇫
One of the tournament's surprises, Burkina Faso, have done well so far by keeping it very tight at the back, conceding only one goal from open play. After missing the quarter-finals, we can only hope that the team's best player, Bertrand Traoré, will play in the semi-final against arguably the team with the best players in Africa, Senegal. I think we have to be thankful that they've reached the semi-finals as we can use their players as budget enablers or punts. Burkina Faso's players have good prices in AFCON Fantasy while also having decent points in total despite having no player with 30+ points (other teams have at least two players).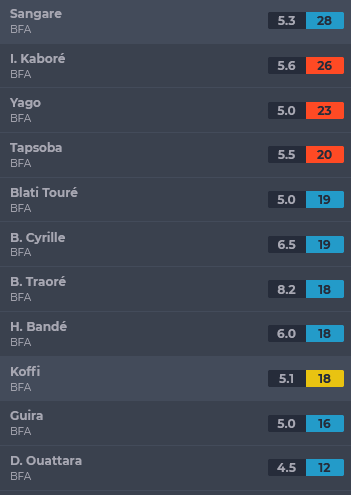 We might see 1-3 Burkina Faso players in most fantasy teams because, let's be honest, they are the cheapest of the four semi-finalist teams. Out of the four teams, I have also seen the least information shared on Twitter or other channels on the team, which makes it harder to predict which players might not play.
Players to Target
Goalkeeper
Koffi is the cheapest starting goalkeeper that we know for sure will play. The Egypt goalkeeper situation is to be monitored closely, but it might be a little too late with them playing on the second day. If you have an extra free transfer, you can punt on Mohamed Sobhy (4.5).
Defenders
Issoufou Dayo (€5.0M) – If healthy, he might also be on penalties.
Steeve Yago (€5.0M)
Issa Kaboré (€5.6M)
Edmond Tapsoba (€5.5M)
S. Ouattara (€4.5M) – Alternative if Dayo can't play.
Issoufou Dayo (€5.0M), if he plays, would be my main Burkinabe defender because there is a chance that he is on penalties for the team. Especially after Traoré's penalty miss earlier in the tournament. If Dayo isn't available, I would go with their backs Steeve Yago (€5.0M), Issa Kaboré (€5.6M), or Edmond Tapsoba (€5.5M). I don't think you need to spend €5.5M or more for a Burkina Faso defender.
Midfielders
Bertrand Traoré (€8.2M)
Gustavo Sangare (€5.3M)
Blati Touré (€5.0M)
Bayala Cyrille (€6.5M)
Hassane Bandé (€6.0M)
Trying to fit in Traoré with Salah, Mané, Aboubakar, and Toko Ekambi could be a difficult thing. But Traoré is the best player on the team. If you have the money and squeeze him in, I'd say go for it. We surely will see more news closer to the kick-off about his availability. Gustavo Sangare is the cheap must-own player from this team, in my opinion, because he has played in all five games. He plays centrally but can advance forward too and is also on corner-kick duties.
If you want to punt, go for the cheaper Blati Touré, the combative midfielder who has won three man-of-the-match awards in this tournament. He certainly has a lot to prove as he was not contracted by any club before the tournament. His performances earned him a contract with Egyptian club Pyramids FC four days ago.
Forwards
Djibril Ouattara (€5.6M) – I am unsure whether he will start.
With many BFA midfielders on Realfevr, we aren't left with many options when it comes to forwards. Djibril Ouattara started the last game, but it is hard to guess whether he will start in the semi-finals. With a €5.6M pricetag, he is the cheapest forward available and can get points even if he doesn't start. He plays on day one, so you can either wait and see if he starts or not, or you can change him if the gamble doesn't work out.
Senegal 🇸🇳
Senegal has one of the best defensive stats so far, conceding their first goal in the quarter-finals while improving in attack. I think that Senegal is steadily growing and improving, and the team will be even better in the semis. Senegal are the heavy favorites in this game and are trying to build momentum. After scoring just one goal in the group stage matches, they scored twice in the round of 16 against Cape Verde and three times in the quarter-finals against Equatorial Guinea, where they also conceded their first goal of the tournament.
The main source of cleansheets in this tournament, it's not crazy to see seven defenders in the top 10 most points for Senegal, despite P.A. Cissé and Mbaye only starting two games while Koulibaly & Ciss were out with covid.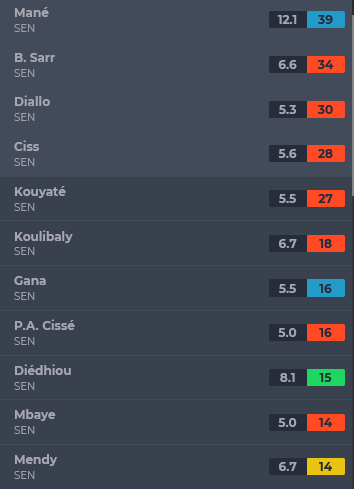 Because Senegal are heavy favorites against Burkina Faso, we might see 5-7 Senegal players in most AFCON fantasy teams. Their next match, Cameroon and possibly Egypt, will be a more difficult one.
Players to Target
Goalkeeper
Edouard Mendy (€6.7M)
Mendy is arguably the best keeper in Africa right now, and some might say even in the world. If you rely on the best defense of the tournament for points, Mendy is undoubtedly the way to go for a goalkeeper. He is also the most expensive goalkeeper in AFCON Fantasy, so you might want to save the money because, in all honesty, the chance a goalkeeper hauls in fantasy is very low.
Defenders
Bouna Sarr (€6.6M)
Saliou Ciss (€5.6M)
Cheikhou Kouyaté (€5.5M)
Abdou Diallo (€5.3M)
Kalidou Koulibaly (€6.7M)
Bouna Sarr has a more advanced role than Ciss but is also a million more expensive. His total tally of 34 points is also influenced by the fact that he played RM/RW in the first match. After that Ciss has had more points than Sarr, he is also on corners sometimes, but if you have the money, then go for Bouna Sarr, but if you need to spread the funds, go for Ciss.
Kouyaté plays an important role for Senegal. He didn't start in the quarter-final but came in and scored. Playing OOP as a defensive midfielder, his €5.5M price tag seems like a good bargain. Diallo has played, just like Sarr, all the minutes in Senegal's defensive line this tournament and is the cheapest entry to their defense. Koulibaly is the team's main and best defender, but his price tag will scare you rather than attract you to get him.
Midfielders
Sadio Mané (€12.1M)
Ismaïla Sarr (€9.1M)
Nampalys Mendy (€5.0M)
Idrissa Gueye (€5.5M)
Sadio Mané is a must-have. Period. Ismaïla Sarr, on the other hand, is a very intriguing player. As I said in my last article, this team needed more firepower, and Sarr can bring that to the team. He came in and scored in the quarter-final, and I think he is ready for so much more in the rest of the tournament. Nampalys Mendy is the punt here. MOTM in the last round, I think he deserves to start in the final four.
Forwards
Famara Diédhiou (€8.1M)
Boulaye Dia (€9.0M)
We finally saw Famara Diédhiou scoring against Equatorial Guinea after getting an assist in the previous match. He can do more damage against Burkina Faso in the next game. Despite playing all games, Dia only has 11 points, and with his expensive price tag might be the least attractive player to own. Diédhiou (5%) and Dia (6%) could be great differentials, but Diédhiou should be the one to own here.
---
---
🇨🇲 Cameroon vs. Egypt 🇪🇬
Cameroon 🇨🇲 
Cameroon continues to be the highest-scoring team while having the best game that they've had in the quarter-final in terms of defensive stats. The team with the most goals scored boasts of the best forward duo in the tournament. Aboubakar and Toko Ekambi account for all goals for Cameroon so far. The defenders are harder to target because they've only kept one cleansheet so far.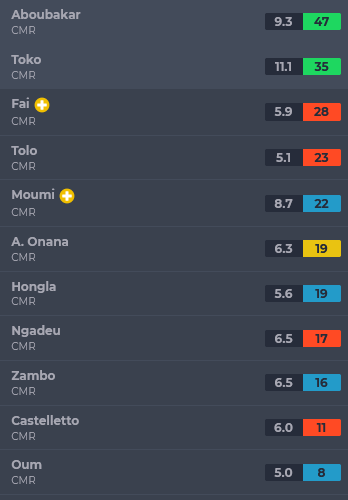 With a tougher opponent to face in Egypt, but with good players, we should see around 4-6 Cameroon players with ease in most AFCON Fantasy teams. Keep in mind that they will face Burkina Faso or Senegal in the next match.
Players to Target
Goalkeeper
André Onana (€6.3M)
A cheaper alternative to Mendy, but with a more difficult match-up. One of my favorites pre-tournament.
Defenders
Collins Fai (€5.9M) – Injury worry?
Nouhou Tolo (€5.1M)
Micheal Ngadeu (€6.5M)
Jean-Charles Castelletto (€6.0M)
There is not much to see here because the last match was their first one with a cleansheet. The way to go here is with Collins Fai and Nouhou Tolo. Fai was subbed off in the quarter-final because of an injury. If Fai can't play, his backup is Mbaizo. Also, Cameroon is playing on the second day, so there won't be any early lineups. If you want to go safe, go with Tolo.
Midfielders
Moumi Ngamaleu (€8.7M) – Another injury worry?
Martin Hongla (€5.6M)
André-Frank Zambo Anguissa (€6.5M)
Moumi was also subbed off because of an injury in the last match. He has very good stats but hasn't played a full match this tournament. Bassogog (€9.0M) or even N'Jie (€8.0M) could replace him in the starting XI if he can't play. Both are pricey, though. Martin Hongla, with his three assists in the same number of games played, could be the best and cheapest way to get into the Cameroon midfield. He has nine key passes in just games. Zambo is arguably their best midfielder but comes with a high price tag for a central midfielder. I'd rather have Hongla.
Forwards
Vincent Aboubakar (€9.3M)
Karl Toko Ekambi (€11.1M)
Eric Maxim Choupo-Moting (€6.5M) – He probably won't start.
I don't think I have to say anything about Aboubakar and Toko Ekambi. Their stats say enough:
Vincent Aboubakar – 47 points, 1 blank, 6 goals, 25 shots, 11 SoT's, 4.6 npxG, 1 assist, 7 KP, 27 DW
Karl Toko Ekambi – 35 points, 2 blanks, 5 goals, 13 shots, 7 SoT's, 2.13 npxG, 5 KP
Choupo-Moting is the punt here, but he might not start. He didn't even play in the quarter-final. But if things get difficult against Egypt, he could come in to help the team.
Egypt 🇪🇬
Egypt have only conceded one goal from open play so far, although the stats reveal that they've been lucky too. With "King Salah" in the team, we always knew that Egypt has a chance to win this tournament. They have been unlucky with injuries (three goalkeepers have already played) and will play in the semi-final without arguably their best defender, Hegazi.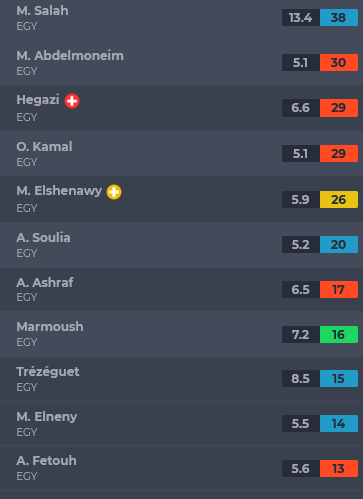 Players to Target
Goalkeeper
Gabaski (€5.1M) – He says he'll be ready.
Mohammed Elshenawy (€5.9M) – Egypt's #1 GK but wasn't ready for the quarter-final. He could start the next game.
Mohamed Sobhy (€4.5M) – If #1 and #2 can't play, he will start.
The way I see it if you don't hear better news before the deadline and you have a free transfer and an already playing keeper, get Mohamed Sobhy. If he doesn't play, it won't really hurt you.
Defenders
Omar Kamal (€5.1M)
Mohamed Abdelmoneim (€5.1M)
Ahmed Fetouh (€5.6M)
Ayman Ashraf (€6.5M)
Marwan Hamdy (€6.0M) – El Wensh could start if he is healthy.
Kamal, Abdelmoneim, and Fetouh are pretty much nailed to start. With Hegazi out of the tournament, we could see Alaa or Ashraf partnering with Abdelmoneim at center-back. If El Wensh is healthy, he too is in contention to start there. The cheapest way to get into Egypt's defense is Omar Kamal the right-back and Mohamed Abdelmoneim, the center-back. Kamal is more advanced than Fetouh at left-back, and Abdelmoneim is highly involved in set pieces. H even has a goal and an assist (Salah scored off a rebound off Abdelmoneim's attempt).
Midfielders
Mohamed Salah (€13.4M)
Amr El Solia (€5.2M)
Trézéguet (€8.5M)
Mohamed Elneny (€5.5M)
Mohamed Salah – 38 points, 2 goals, 13 shots, 6 SoT's, 2.2 npxG,  1 assist, 14 CC, 16 KP, 1.42 xA in open play. Enough said!
Amr El Solia is the cheapest Egyptian midfielder to own. He is a good enabler with one assist, and five key passes so far. Trézéguet is worth punting on here, but he is so expensive that you'd probably be better off without him. His 1.38 npxG in only 238 minutes means per 90 minutes, his npxG is higher than Salah (509 minutes).
Forwards
Omar Marmoush (€7.2M)
Mostafa Mohamed (€8.5M)
Omar Marmoush has seven key passes, six chances, and is on corners too, which makes him an intriguing pick to have, especially at his price point. He looked dangerous, too from open play in the last game against Morocco. Mostafa Mohamed has a team-high 15 shots (5 on target), but his npxG isn't that high, 0.74. Still, at 7% ownership, he can be a good differential.
---
AFCON Fantasy Wildcard Picks
In case you still have a wildcard chip in your hand, this is the direction you'd probably want to go:
Wildcard draft v1
Going with one goalkeeper who is sure to play.
Downgrading Famara Diédhiou or Hongla can give me Ismaïla Sarr for Moumi.
I can differentiate defenders by getting Burkina Faso's defenders.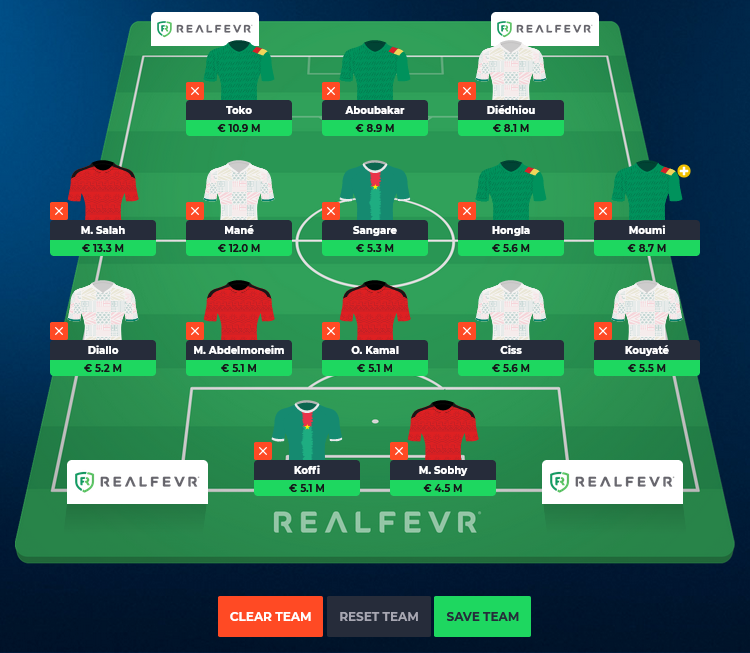 Wildcard draft v2
Going with two playing goalkeepers, but you can wait for more news and decide which Egypt goalkeeper will start.
Sell Onana for the Egypt goalkeeper that starts and then upgrade Dayo to Kouyate if you want, or Soulia to Hongla, or Moumi to Sarr.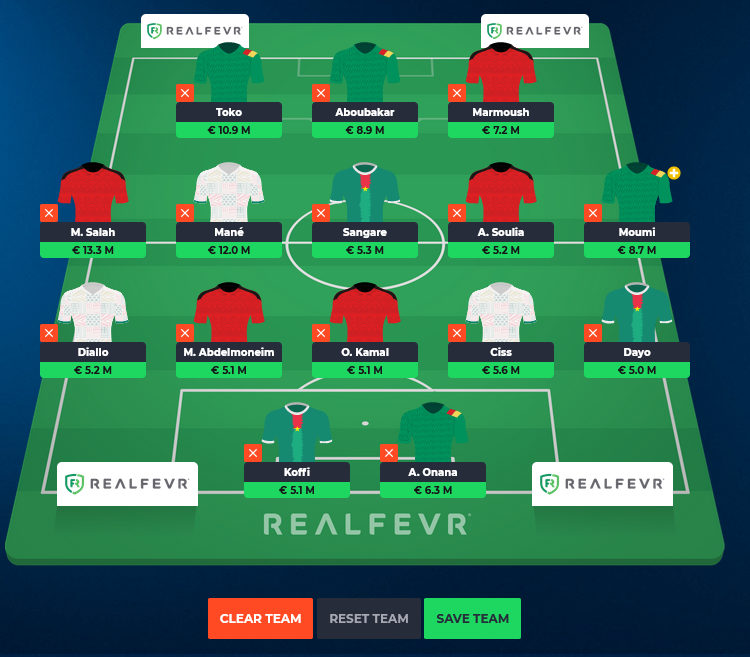 ---
---
AFCON Fantasy Differential Picks Matchday 6
Goalkeeper
Hervé Koffi – 5%
Defenders
Saliou Ciss – 6%
Cheikhou Kouyaté – 9%
Mohamed Abdelmoneim – 6%
Omar Kamal – 7%
Nouhou Tolo – 11%
Issoufou Dayo – 4%
Midfielders
Moumi Ngamaleu – 7%
Ismaïla Sarr – 5%
Bertrand Traoré – 13%
Martin Hongla – 3%
Amr El Solia – 10%
Blati Touré – 2%
Forwards
Omar Marmoush – 11%
Famara Diédhiou – 5%
Mostafa Mohamed – 7%
Boulaye Dia – 6%
---
AFCON Fantasy Captain Picks Matchday 6
Day 1
Best captaincy pick: Mané
Alternatives: B Sarr, Diédhiou
Punts: I. Sarr, Ciss, Traoré
Day 2
Best captaincy pick: Aboubakar/Salah
Alternatives: Toko Ekambi
Punts: Moumi, Mohamed, Marmoush
---
Summary
You already have a good picture of which players are must-haves, budget enablers, differentials and punts for the last two rounds. The strategy to gain points and move up the ranks might be to get 1-2 differentials and have a good captaincy pick.
---
You can find additional AFCON 2021 Fantasy resources here.